The Leader for Sports Trading Card Price Guides and Apps
Trending Sports Cards March 2023
Baseball: Jordan Walker | Julio Rodriguez | Gunnar Henderson | 2022 Bowman | Anthony Volpe
Basketball: LeBron James | Kareem Abdul-Jabbar | Paolo Banchero | Jayson Tatum
Football: Patrick Mahomes | Jalen Hurts | Travis Kelce | Trevor Lawrence
Hockey: Wayne Gretzky | Alex Ovechkin | Bobby Orr | Mario Lemieux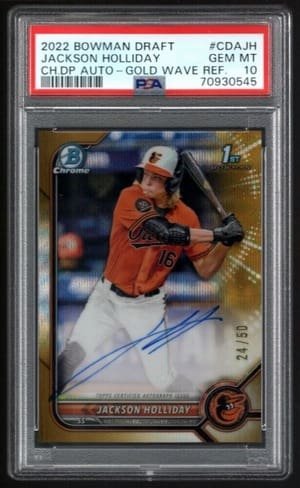 MLB Spring Training 2023 is underway and we take our first look at the best 2023 baseball rookie cards to buy now. We've already seen some exciting fresh prospect names jump out of the box scores and there's plenty of early investment opportunity. A couple of the top prospects we recommend include Jordan Walker and Anthony Volpe. Read on to learn what the best 2023 baseball rookie cards are that you should be adding to to your sports card portfolio!
The 2023 NHL playoffs are just around the corner and we offer the top NHL rookie hockey cards to acquire. The names leading the way include hockey young guns Mason McTavish and Owen Power! Click to learn more.
With Super Sunday just around the corner it's a great time to start thinking about what the best 2023 football card investments are! This sports card review focuses on the the 2022 NFL draft class. Our analysis includes college summaries to help you further analyze these future sports card stars. Kenneth Walker II and Drake London lead the pack in a very talented 2022 Draft Class. Click now for more cardboard insights!
As always with rookie classes, there are stars and duds. The 2022 NFL draft class was no different than other classes in that there were some clear future stars and some that will fall by the wayside. Here we look at the 2022 NFL Draft Class' best football rookie cards to buy 2023.
So you just got yourself a new sports card — that's great! Did you get it at a good price? If so, grading your card through a professional sports authenticator grading company like PSA grading or BGS authentication and grading could boost your sports card's value depending on the card's condition. Click to learn more.
Routinely on the current sports card market hall of fame players like Mickey Mantle, Michael Jordan, Honus Wagner or even LeBron James basketball cards are fetching soaring prices similar to the stock market! And with the recent fade of the stock market, the sports card market has become a robust alternative investment strategy to add to one's financial portfolio. Click to read more.
Are you seeking out the best football cards to buy 2022? Look no further! This is part two of our top graded football cards to buy for 2022. And now is a great time to buy…making these PSA sports card investments today is sure to reap rewards tomorrow. Click to read more.
Are you looking to identify what the top graded football cards to invest in for 2022 are? Joe Burrow & Trevor Lawrence make the list. The 2022 NFL season is almost is upon us and it's time to buy before football cards begin their annual rise in sports card value! Click now to see what the hot football cards and players to invest in for 2022 are.
The sports trading card industry has grown substantially during the COVID-19 pandemic, with sports cards reaching unprecedented levels. Despite the sports card market cooling off in recent months due to current economic uncertainty, one category continues to thrive: high-end sports cards. Read about the top 2022 sports card investments now!
It's likely everyone has at least heard of eBay whether they've used it or not. Anyone can get online and buy sports cards on eBay, but how do you do it effectively? By the time you finish reading this blog, you'll know all the basics to making informed purchases on eBay. Click and learn more.
Are you interested in learning what the top baseball card values and investments are for 2022? What ARE the best 2022 baseball cards to buy and invest in now? Who are the most valuable players to target? Click now to learn more.
Investing in sports card for 2022? Looking for expert sports investor tips to identify the best market mover card investments to buy? Read our blog to learn sports card investing tips to help you build a profitable sports card portfolio in 2022!
Whether it be large or small, everyone has had a sports card collection at some point in their lives. Especially in today's world, football cards have boomed from both a buying and selling standpoint. People are fighting over card packs in retail stores and selling out online markets trying to get an opportunity to get their hands on the next Tom Brady rookie card. Click to review the 10 Most Expensive Football Cards 2022
You just hit the big time and stumbled upon a vintage rookie Tom Brady card while you were cleaning out your room. You feel like you hit the jackpot, but how can you be certain? PSA card grading and sports card grading in general is the best way to help solidify your card's value. If you walk into a card show looking to sell your Brady card and you ask for market price, people are going to want to see some proof that your card is the real deal before giving you a wad of cash. Click now to learn the benefits of getting your card graded, how it works, where to get it done, and more.
How to Sell Sports Cards
"How can I sell my sports cards?" That's something we have heard quite a few times. There is more to it than just going online and asking someone to send you money, so make sure you do some research before you start selling your cards. Whether it be baseball cards, football cards, basketball cards, hockey cards, or something else, you should consider following this "How to Sell Sports Cards" guide ahead of time. Click to get started!
How much are your Sports Cards worth?
Worried About Overpaying for Sports Cards?
BUY WITH CONFIDENCE
You can now easily compare current live sports card pricing with real-time sales price analysis. Our sports card app displays completed sales pricing comp analysis. Pair live pricing with up-to-the-second real-time comp pricing and our app quickly directs you to your best deal. Click now to learn more.