2020 Opening Day Rookies to Watch
Let's look at a couple of the top 2020 opening day rookies to watch heading into the opening day of the 2020 baseball season.
Play Ball! I honestly wasn't certain you'd be reading those words for 2020. Even through all the wait. All the twists, turns, and current restrictions bestowed upon the 2020 baseball season (a very haunting site to see Fenway Park with no fans during a Red Sox game) I still have the child-like excitement that you get on MLB opening day. I definitely hadn't felt like this until this very morning. And I will cherish it as we don't know for sure if things will all work out and the 2020 season continues as planned. 
COVID-19 is certain to play a role within teams' clubhouses and present opportunities for rookies to play at the major league level that otherwise might have spent time in the minors this season.
Wander Franco
Wander Franco(Shop eBay) is probably the most talented and hyped young prospect in MLB. Here are some notes on the switch-hitting 19-year-old Tampa Ray rookie.
Prospect Ranks: No. 1 at Baseball America and Baseball Prospectus.
2019 Stats (A, A+): 114 G, .327/.398/.487, 9 HR, 43 XBH, 18 SB (56.3%), 11.3 BB%, 7.1% K%
Career: 175 G, .336/.405/.523, 20 HR, 71 XBH, 22 SB (56.4%), 10.8 BB%, 7.0 K%
Franco(Shop eBay) was added to the Rays' 60-man player pool. He is likely going to be "waiting in the wings" when the Rays announce their 40 man roster But in an already crazy 2020 season, we won't rule out seeing him in the majors at some point this year.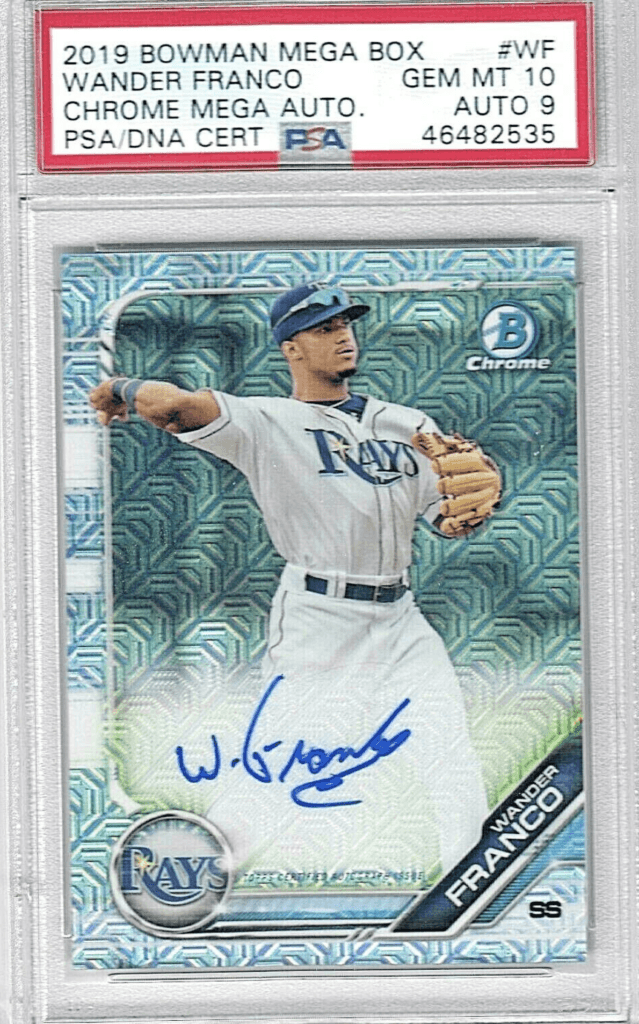 Wander Franco(Shop eBay) cards continue to show steady demand with collectors. Franco(Shop eBay)'s PSA 10 Gem Mint 2019 Bowman(Shop eBay) Rookie Autograph(Shop eBay) Baseball currently ranks #8 on our Hot 100 Rookie cards to watch and buy real-time list. The card displays a strong BTC bid rating with active bidding from collectors. Wander Franco cards remain both strong long term and short term investments. Buy.
Bo Bichette
Bo Bichette currently is ranked 3 times in the top 50 cards via the current Hot 100 Rookie cards to watch and buy real-time list. Collectors are eagerly buying up his cards. And rightly so. Son of former professional MLB Dante Bichette, Bo brings a strong pedigree. Last year Bo Bichette opened a lot of people's eyes at the major league level and his card values have been rising.
One of Bichette's elite rookie autograph cards to own is his 2016 Bowman(Shop eBay) Chrome Draft autograph(Shop eBay). This card currently ranks at #18 on the Hot 100 Rookie list. This is one of Bo's best cards to buy.