With the 2021 MLB spring training season underway we provide an early review of our 2021 MLB Sports Card Investment report.
2021 Jarren Duran Sports Card Investment Outlook
Jarren Duran, OF, Red Sox
Duran continued his hot start to the spring with a double and a home run in Boston's 6-3 loss to Baltimore. Hitting in the No. 2 spot, Duran doubled and scored in the first inning to get the Red Sox started and hit a solo shot in the second inning to give them an early 3-0 lead.

Baseball America – 3/5/2021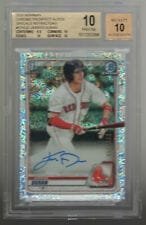 Jarren Duran has already been simmering with baseball card collectors. And with his hot 2021 spring training start Duran's cards are increasing in demand…and value. He is a 2021 MLB sports sard investment target. The Red Sox roster offers an abundance of opportunity for young rookie outfielders with the exodus of Betts, Benintendi, and Bradley Jr. over the past year. Our money is on Duran to make quick strides to the majors. Jaren Duran is a strong 2021 sports card investment buy.
Click Now to Find Underpriced Jarren Duran Sports Cards
Jarren Duran Recent Sports Card Sales Comps
2020 Bowman Prospects Chrome Speckle Refractor Auto Jarren Duran BGS 10 Pristine
Mar-8 09:17 | $1,000.00
48709866 – Jarren Duran – 2020 Bowman Chrome Base RC AUTO PSA 10
Mar-7 20:01 | 29 bids $260.00
New Listing2020 Bowman Chrome Jarren Duran Mega Box Rookie Card RC #BCP144 PSA 10 | Red Sox
Mar-8 09:58 | $139.99
2020 Bowman Chrome Refractor /499 JARREN DURAN AUTO Autograph Boston Red Sox
Mar-8 01:22 | $200.00
2020 Bowman Chrome Mega Box 1st Rookie Jarren Duran RC #BCP144 PSA 10 Gem MINT
Mar-7 18:00 | 39 bids $130.50
2021 Mickey Moniak Sports Card Investment Outlook
Mickey Moniak, OF, Phillies
The 2016 No. 1 overall pick cranked two home runs in the Phillies' 15-0 rout of the Yankees on Thursday. He entered in the sixth inning and promptly sent a Reggie McClain fastball 372 feet over the right field fence in his first at-bat. He came to the plate again in the seventh inning and hit another one even farther, sending Nestor Cortes' offering 415 feet out to right field.

Baseball America – 3/5/2021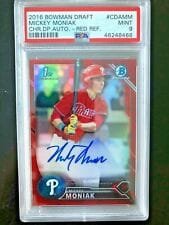 We haven't heard much from the Mickey Moniak over the past couple years. Any time a fairly recent former No. 1 overall pick (2016) launches a couple dingers to begin spring training camp the player's sports cards are sure to pick up steam.
A quick, real-time comparison of Mickey Moniak's 2016 Bowman(Shop eBay) Chrome rookie autograph(Shop eBay) sales comps via our sports card price lookup tool and we see both average price sold and total sales are on the rise. Mickey Moniak sports cards are certainly worthy to keep an eye on in 2021.
Click Now to Find Underpriced Mickey Moniak Sports Cards
Last 5 Comps
Average Price Sold: $1239.39
Total Sales: $6196.96
Highest Sold: $4999.99
Last 25 Comps
Average Price Sold: $447.37
Total Sales: $11184.33
Highest Sold: $4999.99
Mickey Moniak Recent Sports Card Sales Comps
2016 Bowman Chrome MICKEY MONIAK Red Refractor Auto Autograph /5 PSA 9 Mint
Mar-8 09:05 | $4,999.99
2017 BOWMAN CHROME MICKEY MONIAK ORANGE REFACTOR AUTO AUTOGRAPH /25 BGS 9.5/10
Mar-7 21:03 | $129.99
2016 Bowman chrome draft Mickey Moniak green auto refractor /99 BGS 9.5 10 auto
Mar-7 15:33 | $449.99
2016 Bowman Chrome MICKEY MONIAK Auto BLUE REFRACTOR RC BGS 9.5 Autograph #/150
Mar-7 14:14 | $489.99
2016 Bowman Chrome Draft Autograph MICKEY MONIAK BGS 9.5 – 10 AUTO RC ROOKIE
Mar-7 14:04 | $117.99