Here we spotlight Adley Rutschman 2019 Bowman Draft baseball trading card values. The early market price results have started to come in for the newly released 2019 Bowman Draft. Here's a Adley Rutschman early Top 5 "Most Expensive Baseball Cards" list guide.
Adley Stan Rutschman (born February 6, 1998) is an American professional baseball catcher in the Baltimore Orioles organization. He played college baseball for the Oregon State Beavers.He was named the Pac-12 Conference Player of the Year in 2019.
The Orioles selected Rutschman with the first overall selection in the 2019 MLB draft, and he signed for $8.1 million, at the time the highest MLB draft signing bonus ever.
1.) Adley Rutschman 2019 Bowman Chrome Draft 1st Bowman Superfractor Auto 1/1 1of1
2019-12-23 || Price Sold: $23088
2.) 2019 Bowman Chrome Draft 1st Bowman Adley Rutschman Orange Refractor Auto 12/25
2019-12-24 || Price Sold: $5499.99
3.) 2019 Bowman Chrome Draft Adley Rutschman Auto Gold Wave Refractor/50
2019-12-08 || Price Listed: $3500 *BOA [2,500.00]
4.) 2019 Bowman Draft Chrome Gold Auto Adley Rutschman #43/50 Orioles 1st RC GEM
2019-12-08 || Price Listed: $3400 *BOA [3,300.00]
5.) 2019 Bowman Draft Adley Rutschman Sparkles Parallel Auto #'d 9/71 Orioles SSP
2019-12-05 || Price Listed: $2999.99 *BOA [1,100.00]
*BOA (Best Offer Accepted)
And for an even more robust Josh Jung baseball card price market analysis experience please take a moment to check out the NEW Baseball Card Price Charts feature. We've added real-time visual charts to our BTC baseball card price lookup web and mobile app.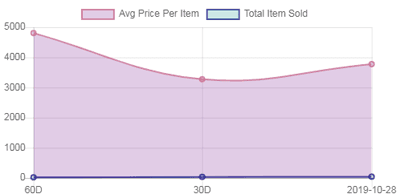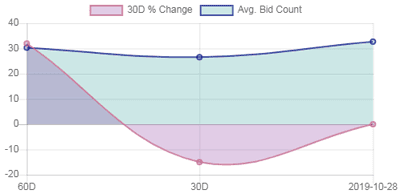 You can easily review 30-day and 60-day charting for % market gains and losses, Average Price Per Item and Average Bid Counts via our new visual data charts.
These are great visual data tools to use whether you are researching baseball cards to buy or sell. The app uses real-time market data and is FREE to use!
*All BTC list data sourced via Ebay.