What are the best 2020 Baseball & Sports Card to buy? Here we review some of the best 2020 Baseball & Sports Cards Investments – 2nd Edition.
2020 Baseball & Sports Cards to Buy
With the sports card market soaring the past few years, we target some of the best sports cards to invest in for 2020. These selections can't guarantee a positive gain, but using our research and analytical tools we are very confident that these are solid picks. And are sure to bring a little more joy to your card collection.
Short Term = 1 year or less (sell)
Long Term = 5 years +
Discover your baseball card prices using our FREE BTC Card Price Lookup App today. Our robust real-time visual charts provide advanced market analysis and are great tools for buyers, sellers, and baseball card collectors of any style.
Best Short/Medium Term Investments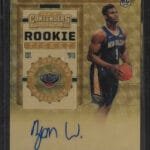 There's a lot to like in this number one NBA pick. Although Zion Williamson(Shop eBay) had his rookie year curbed by injury prior to the league being suspended, the games Zion played in he looked like the franchise player everyone expects him to be. And Zion(Shop eBay) appears to be mature beyond his year having a great pedigree in getting coached by Duke legend coach Mike Krzyzewski.
Vladimir Guerrero Jr(Shop eBay). slid back a bit last year. Vlad(Shop eBay)'s numbers didn't illustrate the cardboard respect he'd been earning as a top MLB phenom with an iconic MLB playing father. And Jr.'s card values demonstrated this decline. I fully expect a nice rebound for Vlad(Shop eBay) Jr. His cards are a solid short to medium-term investment.
---
Best Long Term Card Investments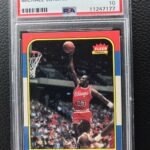 I believe with more recent accomplishments of LeBron James(Shop eBay) and Kobe Bryant(Shop eBay) there may have been many collectors out there that might've shaded Michael Jordan(Shop eBay) and his six NBA championships. However, with the recent ESPN docu-series release titled "Last Dance" it's reminded us all how superhuman and fiercely competitive MJ was. It's also illustrated the compelling story of Michael Jordan(Shop eBay) to many young collectors that didn't get to witness the greatness of MJ. MJ transcended the NBA into pop culture and the NBA has never looked back. Michael Jordan(Shop eBay) is still the king of kings. Demand for his cards has seen an uptick since the docu-series started airing over the past several weeks. Buy.
The GOAT. Nine Super Bowl appearances. Six Super Bowl Championship Rings, the most of any player in NFL history. A record of four Super Bowl MVPs. The list goes on. There's no denying the greatness of Tom Brady(Shop eBay). And his cardboard follows suit.
Back in December, a Tom Brady(Shop eBay) 2000 Playoff Contenders Championship Ticket Rookie Autograph(Shop eBay) sold for $225,000. Yes, almost a quarter-million dollars. And Since last November Brady(Shop eBay) cards have experienced a sustained rise in value and demand. And why not, with the invigorated enthusiasm of a new offense and a stable of upgraded receiver talent surrounding him (including Rob Gronkowski fresh out of retirement) the future is bright. Buy. And then buy more.