What are the best 2020 Sports Cards to Buy? Here we review some of the best 2020 Baseball & Sports Card Investments – 3rd Edition.
2020 Baseball & Sports Cards to Buy
The sports card market continues to soar. Demand has increased over the past year and even more so over the past few months. Many investors are jogging their financial portfolio and moving their stock assets to hard, sports card memorabilia assets. In addition, nostalgic sentiment has been high with collectors re-visiting their collections during the crisis lockdown.
"We're seeing really unprecedented demand," Leiner says. "The last five years have been great, but the last couple months we've seen further growth as we've been in this lockdown mode. I think a lot of collectors are getting nostalgic. A lot of folks are at home sifting through their old baseball cards… and going out and purchasing more."

Topps(Shop eBay) VP Michael Leiner
Here we target some of the best 2020 sports cards to buy and invest in for 2020. These selections can't guarantee a positive gain, but using our research and analytical tools we are very confident that these are solid picks. And are sure to bring a little more joy to your card collection.
Discover your baseball card prices using our FREE BTC Card Price Lookup App today. Our robust real-time visual charts provide advanced market analysis and are great tools for buyers, sellers, and baseball card collectors of any style.
Best 2020 Baseball Card Investments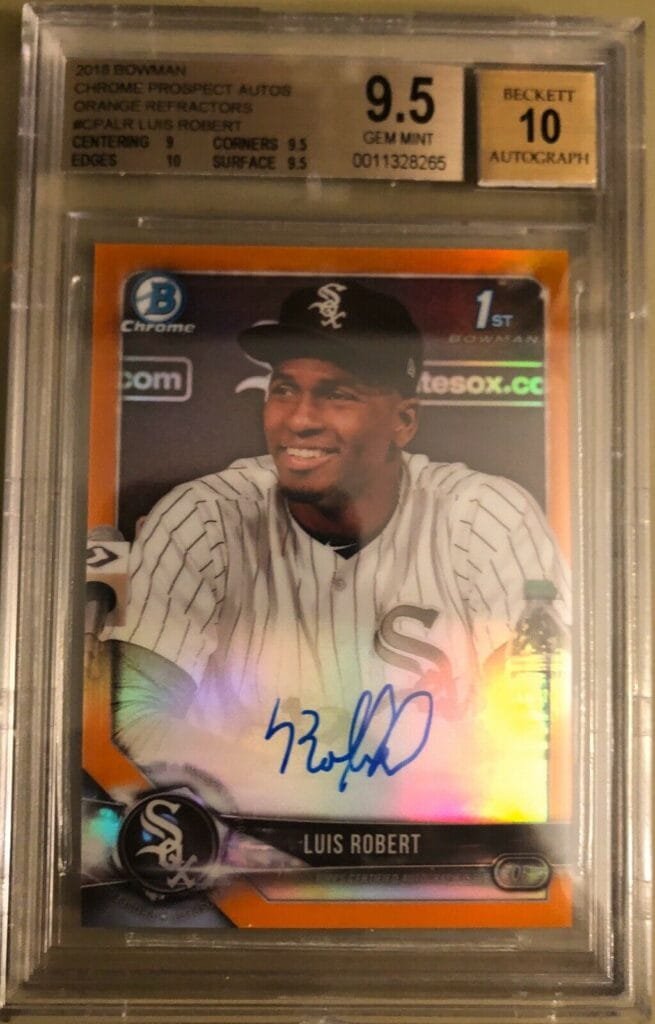 It's a given that many collectors are acquainted with prized White Sox prospect Luis Robert. Robert has been building momentum in the minors and now poised to start in centerfield for Chicago. And it's reasonably proper to compare Luis Robert to the all-world phenom Ronald Acuna(Shop eBay). Robert's minor-league numbers compare quite nicely to Acuna(Shop eBay). We see Luis Robert possibly displaying a bit more power in the majors. Even with a shortened 2020 spring/baseball season potentially curbing Luis Robert's development we expect Luis Robert to ascend near the top of all current MLB players.
Luis Robert's time is now. Buy.
Keston Hiura might be overshadowed by other top prospects like Vladimir Guerrero Jr., Fernando Tatis Jr., Gavin Lux(Shop eBay) or Gleyber Torres(Shop eBay), however, don't sleep on this Milwaukee Brewer. Keston's minor-league numbers are right in line with both Luis Robert(Shop eBay) and Acuna, so it's not far fetched to see Hiura join the ranks of these two in the eyes of collectors. Lots of talent packed into Hiura's toolbox and Keston was off to a strong 2020 Spring. We believe there's much room for dollar value to rise in Hiura rookie cards.
Keston Hiura cards are a strong buy.
---
Best 2020 Basketball Card Investments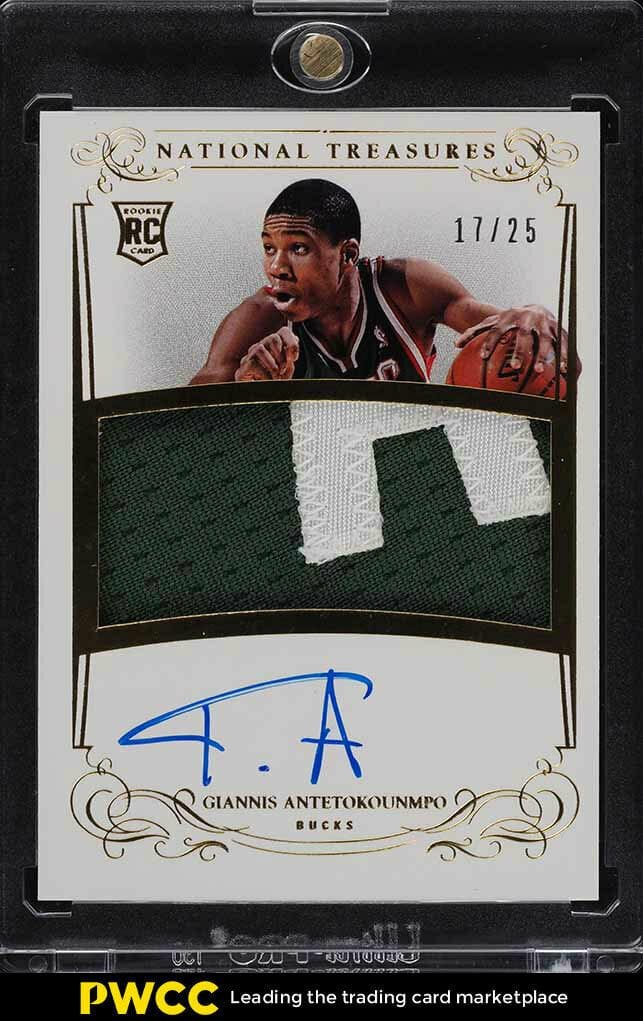 The "Greek Freak." Giannis(Shop eBay) Antetokounmpo. Is there anyone that can defend him in the current NBA? It's an intriguing question. We think no. The skillset Antetokounmpo brings to the game is "off the charts." Giannis(Shop eBay) is destined for hallowed NBA greatness.
A brief look at the BTC basketball card price app and we see a significant spike in Giannis' market value over the past month.
We believe as the young players around him (Kris Middleton and others) continue to develop there will be championship rings in his future.
Buy with confidence.
Best 2020 Football Card Investments
Along with Patrick Mahomes(Shop eBay), Lamar Jackson(Shop eBay) is "cardboard gold" for football card collectors. Lamar Jackson(Shop eBay)'s unique football talents have illustrated that he's more than capable of perennially carrying a Baltimore Raven team into the playoffs. Continue to buy.