MLB Spring Training 2023 is underway and we take our first look at the best 2023 baseball rookie cards to buy now. We've already seen some exciting fresh prospect names jump out of the box scores and there's plenty of early investment opportunity. Read on to learn what the best 2023 baseball rookie cards are that you should be adding to to your sports card portfolio!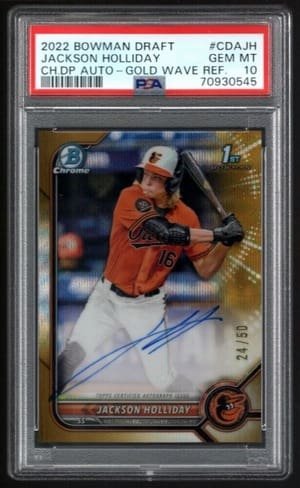 Jordan Alexander Walker is a third baseman in the St. Louis Cardinals organization. He was selected 21st overall by the Cardinals in the 2020 Major League Baseball draft. Walker was named the Cardinals' Minor League Co-Player of the Year alongside Juan Yepez in 2021. He was assigned to the Springfield Cardinals of the Double-A Texas League for the 2022 season.
Jordan started his career strong in 2021 between Low- and High-A, but some still had questions. He began 2022 in Double-A and mashed baseballs with a slash of .306/.388/.510. A 19-HR and 22-SB performance did not fully encapsulate how well Jordan(Shop eBay) Walker performed all season.
At 6-foot-5, 220 pounds, Walker has the physical build to become one of the elite players in the MLB. In spring training, Walker has been one of the leading stars, leading the MLB with 17 hits. Walker has displayed a .378 batting average, along with three home runs, nine RBIs and a stolen base.
Best Jordan Walker 2023 Baseball Rookie Card
Jordan Walker sports cards represent a top buy with collectors this year. A Jordan Walker 2020 Bowman Chrome Gold Wave Refractor Auto BGS 10 10 #D /50 with PSA Pop of 1 sold for $9,000.00 Jan 30, 2023 on eBay.
Here are some of the top Jordan Walker cards to buy:
2020 Bowman Draft Chrome Jordan Walker RC Refractor Autograph (Base and Numbered Color Variations)
2020 Bowman Draft Chrome Jordan Walker RC #BD57
2022 Panini(Shop eBay) Flawless Jordan Walker SSP (Autograph or Patch Auto)
2020 Bowman Chrome Jordan Walker Autograpg Mega RC
Now is a great time to start investing in Jordan(Shop eBay) Walker. A BTC top baseball card buy for 2023.
Search Best Jordan Walker Rookie Card Buys Now
Gunnar Henderson rookie cards are on fire. Gunnar was drafted by the Baltimore Orioles in the 2nd round of the 2019 MLB June Amateur Draft from John T. Morgan Academy (Selma, AL). His above average skills and tools are garnering the attention of rookie card collectors and sports card investors.
"Henderson has received above-average scouting grades from MLB Pipeline nearly across the board, and those tools have been on display consistently over the past two seasons. Henderson bashed 17 homers and and recorded 16 steals in 2021 before tallying 19 and 22, respectively, in 2022. There could be more power on the way as Henderson matures and fills out his 6-foot-2 frame."

Gunnar Henderson guide (mlb.com)
Best Gunnar Henderson Rookie Cards 2023 Baseball Rookie Card
The most valuable Gunnar Henderson rookie card sold to date is the 2019 Bowman Chrome Draft Red Refractor Rookie Autograph(Shop eBay) numbered 2/5 at a PSA 9 grade. This card sold for $18,099 on eBay back in September of 2022. The best Henderson RC is the 2019 Bowman Draft RC #BDC22 and has the ever so important "1st Bowman(Shop eBay)" badge emblazoned. This Bowman rookie is surely one of Gunnar's top rookie cards to invest in.
It appears Gunnar could be starting for the Orioles this year. We mark Gunnar Henderson baseball cards as strong buys!
Search Best Gunnar Henderson Rookie Card Buys Now
New York Yankee fans are brimming with excitement over Anthony Volpe. And accordingly are sports card investors! Volpe's sports cards having been selling at a rapid pace this spring training season.
Anthony Volpe was born on April 28, 2001 in Watchung, New Jersey, USA and attended Delbarton School in Morristown, New Jersey. Anthony played for the school's baseball team and was a teammate of Jack Leiter. The New York Yankees selected him in the first round as the 30th overall pick in the 2019 MLB Draft.
Volpe spent last season playing for the Scranton/Wilkes-Barre RailRiders. He was slow out of the gate due to a case of mononucleosis but he blew away all expectations in his first full pro season in 2021. Volpe went on to belt 50 home runs and swiped 89 stolen bases throughout his early minor-league career. He is hitting .297 with 2 homers and 4 stolen bases this Spring and making a push for the Yankees starting shortstop.
Volpe has been gaining considerable momentum with sports card collectors. His recent card values have spiked up in value and sell briskly.
Best Anthony Volpe 2023 Baseball Rookie Card
Here are some of Volpe's top rookie cards. Of course, Bowman products lead the way.
2020 Bowman Chrome Sapphire Edition Anthony Volpe Prospects – Aqua #BCP-139
2020 Bowman Chrome Anthony Volpe Prospect Autographs(Shop eBay) – Speckle Refractor
2020 Bowman Anthony Volpe 1st Edition Base
2020 Bowman(Shop eBay) Anthony Volpe 1st Edition Sky Blue Foil
Volpe is a marked long term and short term investment. And playing for the Yankees certainly augments his baseball card value. Volpe's rookie cards are a leading sports card investment for 2023.
Search Best Anthony Volpe Rookie Card Buys Now
Jackson Holliday is a 19-year-old shortstop and second baseman for the Baltimore Orioles. He has just 20 games of rookie ball and the low minors under his belt after being selected as the top pick in the 2022 Draft.
Holliday has just 8 at-bats spring training 2023 and has three hits and 1 RBI. He has not look overmatched at the plate and as expected, looks at ease defensively as well.
Best Jackson Holliday 2023 Baseball Rookie Card
Jackson Holliday's 2022 Bowman(Shop eBay) Chrome Black Wave rookie 1/1 card sold for $30,000, making it his highest-selling card. The card and Holliday's autograph earned a Gem Mint 10 grade from PSA.
Here are some of the leading Holliday rookie cards to invest in:
2022 Bowman Chrome Draft Jackson Holliday Autograph Refractor #CDA-JH (Base and Numbered Color Variations)
2022 Bowman Chrome Draft Jackson Holliday 1st Rookie Card #BDC168
2022 Bowmans Best Jackson Holliday Refractor Autograph #B22-JH (Base and Numbered Color Variations)
2022 Panini(Shop eBay) Stars Stripes Jackson Holliday Gold Autograph Numbered to /10
Jackson Holliday rookie cards are a very stable long term buy for 2023.
Search Best Jackson Holliday Rookie Card Buys Now
Jackson Bryan Chourio is a Venezuelan professional baseball center fielder, second baseman and right fielder that plays for the Cleveland Guardians . He was born on March 11, 2004, in Maracaibo, Venezuela. Chourio skipped right over the domestic Complex league to open with Single-A Carolina in May and ended the year at Double-A, hitting .288/.342/.538 with 20 homers and 16 steals in 99 games across all three levels. He was the only 2022 All-Star Futures Game participant with a 2004 birthdate.
Best Jackson Bryan Chourio 2023 Baseball Rookie Card
Chourios's top rookie card sold in 2023 is his 2022 Bowman Chrome Jackson Chourio Gold Autograph BGS 10 numbered to # /50 that sold for $10,850 on eBay Jan 5, 2023.
2022 Bowman Chrome Jackson Chourio Prospect Auto #CPA-JCO (Base and Numbered Color Variations)
2022 Bowman Chrome Mega Box Jackson Chourio BCP-79 Mojo Refractor
2021 Panini Onyx Vintage Jackson Chourio On Card Autograph (Numbered Color Variations)
Sports card collectors are starting to notice Jackson Bryan Chourio cards. Chourio sports cards are a long term buy for 2023.
Search Best Jackson Chourio Rookie Card Buys Now
This ends our initial 2023 installment for revealing the best 2023 rookie cards you should be buying now. Happy collecting!