Are you seeking out the best football cards to buy 2022? Look no further! This is part two of our top graded football cards to buy for 2022. And now is a great time to buy. Making these PSA sports card investments today will surely reap rewards as these players add further football card investment value to their sports cards.
Some of the chief logic behind identifying the top PSA or BGS graded football cards to invest in include targeting rarer short printed sports cards, cards with attractive eye appeal, rookie football cards, and PSA 10 GEM MT certified graded sports cards with low pop (population) counts. PSA 9 or BGS 9.5 are also solid investment buys. However, sports cards graded 10, versus lower number grades, always carry much higher investment value due to its perfect gem mint rating grade.
Justin Herbert
Approximate Value: $9,500
Justin Herbert(Shop eBay) burst onto the scene in 2020 with a standout rookie season and is certainly one of the best football cards to buy 2022. Right away, you heard people saying things like "this kid is the real deal." With such a successful rookie season, his cards have been at the top of collectors' lists since.
Herbert's 2020 season was impressive, but he really upped his game in 2021. He finished no lower than third in critical quarterback stats such as pass attempts, completions, yards, and touchdowns. With another year under his belt with this receiving corps and an improved defense, the Chargers are poised for a playoff run which means Herbert's card value will go up even more.
A key factor in this particular card's value is the patch. You can see clearly it's part of the Chargers' thunderbolt logo, which makes the card even more rare. Out of the 14 cards printed, only two have been graded — a PSA 10 and a PSA 8.5. The low population of this card plus it being short printed makes this card highly desirable and worth the investment.
Josh Allen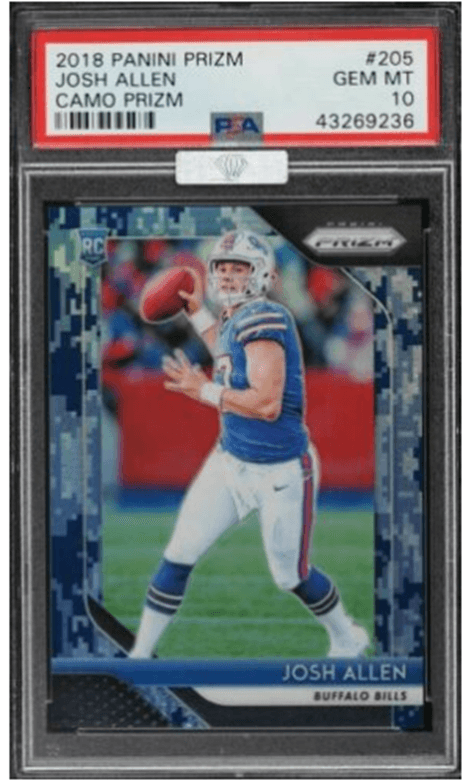 Approximate Value: $15,000
The hottest name on the card market right now and Super Bowl favorite, Josh Allen, is definitely someone to invest in. If you go to card shows or pay any attention to the buzz on social media, everyone is trying to get their hands on a Josh Allen card.
And why wouldn't you? He helped bring the Buffalo Bills from the bottom of the AFC East to the SuperBowl for the first time since 1994 and was a front-runner for league MVP.
This card in particular is highly-collectible not just because it's short printed, but also because the camo variation this year is hard to come by. The population for this card isn't as low as previous cards we list, but it's still pretty low. 20 out of 25 cards have been graded as follows:
PSA 10- 7
PSA 9 – 6
BGS 9.5 – 2
BGS 9 – 4
BGS 8.5 – 1
Lamar Jackson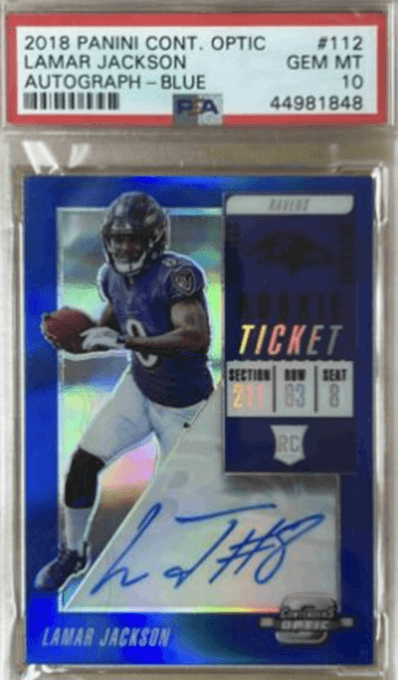 Approximate Value: $4,500
There hasn't been as much buzz around Lamar as there should be. People forget he isn't far removed from being league MVP and is always at the top of the highlight reel.
Although he doesn't put up the same numbers as other quarterbacks, largely due to his tendency to run with the football, his ability to put points on the board should make him a sure fire quality addition to your collection. Although he lost Marquise Brown in the offseason, Rashod Bateman could emerge as his go-to receiver right behind Mark Andrews who, by the way, is making quite the name for himself as of late as the best tight end in the league.
All fifteen versions of this card have been graded, but only three have earned a 10 rating (two PSA and one BGS).
Jalen Hurts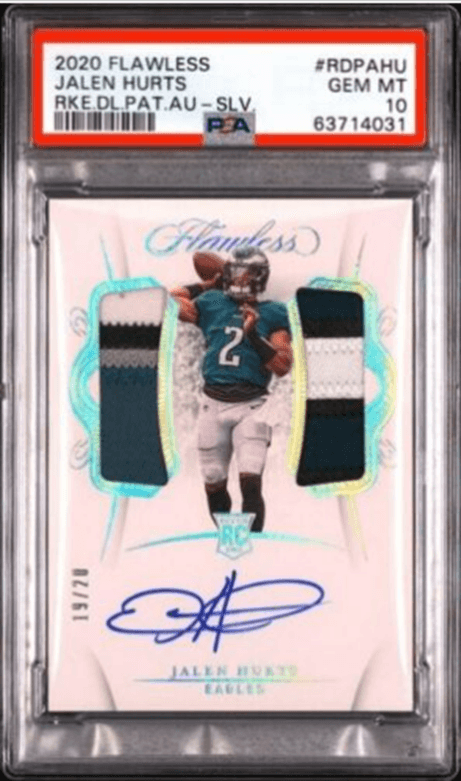 Approximate Value: $8,500
Jalen Hurts flashed signs of greatness last season when he took over the starting role. Now, with the emerging Devonta Smith and the addition of A.J. Brown, Hurts has the tools he needs to build off last season's success.
Dual patch cards are always an eye catcher, especially when they have different colors from the jersey represented. Only half of these cards have been graded, four of which earned a PSA 10 grading.
Football season is here ladies and gents, go pick up some cards before their value shoots up.
Zach Wilson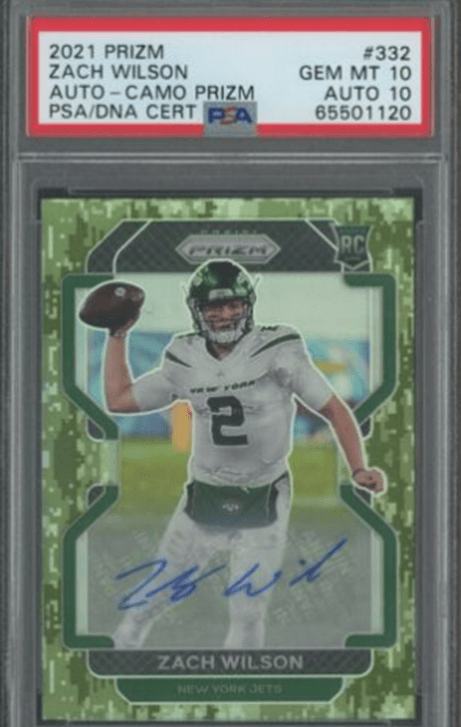 Approximate Value: $2,500
The Jets have been well, let's face it, the Jets for a long time. For years they have been beaten up by other teams and the media for their lack of production on the field, back office decisions, and more. At the risk of sounding like "where have I heard this before," Zach Wilson might finally be the QB this team has needed.
Last season wasn't great for Wilson. He missed four games due to an injury, but that still isn't much of an excuse for only executing only nine touchdowns and eleven interceptions — among the worst in the NFL. A lot of that can be blamed on the coaching staff and supporting cast (or lack thereof) around him. Despite an injury in the preseason, Wilson is expected to bounce back this season. This is a great opportunity to buy low, sell high.
There are only six of these cards graded, one of which has earned a PSA 10.
There you go. Any of these sports cards will offer excellent sports card investment value. And don't be afraid to explore similar football cards to buy using our sports card investor app – you just might land the best sports card to buy for 2023! Happy football card hunting.
Written by Chris Keeley, Baseball-Trading-Cards.com Freelance Staff Writer