"How can I sell my sports cards?" That's something we have heard quite a few times. There is more to it than just going online and asking someone to send you money, so make sure you do some research before you start selling your cards. Whether it be baseball cards, football cards, basketball cards, hockey cards, or something else, you should consider following this "How to Sell Sports Cards" guide ahead of time. Let's get started!
When Was My Sports Card Made?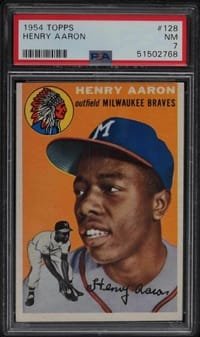 Before you even think about listing your card for sale, you need to determine how much the card is actually worth. You may think you have an idea already, but there is actually way more that goes into it than you think. To help narrow down your card's value, you should determine which of these three categories your card falls under:
Pre-War: printed before 1945
Vintage: printed between 1946 and 1979
Modern: printed from 1980 to present
Once you figure out what era your card is from, you can start estimating your card's value.
Understanding Your Card's Value.
In most cases, there are certain factors that will enhance your card's value. You card can be worth more based on:
the player on the card
the age of the card
the condition of the card
how rare the card is (how many were made)
whether the card is professionally graded or not
This is where Baseball-Trading-Cards.com comes into play. Our free real-time sports card price guides and market analysis web apps provide fresh, current market analysis to optimize the buying experience. These mobile-optimized sports card collecting tools help collectors gain sharper investment perspectives for sports card pricing and products.
There are so many factors that can go into determining your card's value, but if you can nail down the criteria listed above, you are setting yourself up for success when your cards hit the market.
Where Do I Sell My Sports & Baseball Card?
There are a few ways to sell your cards, all of which have their pros and cons. First you need to identify what era of card you're selling (pre-War, vintage, or modern) and decide how quickly you want to sell them. Here are some of the most common ways to sell your cards.
How to Sell Sports Cards Using eBay
At some point in your life, I'm sure you've at least stumbled onto eBay. This site is a great place to find used and sometimes new items from individual sellers rather than a large corporation. There is great potential to find money-saving deals on eBay, so for card collectors, it could be extremely beneficial.
With eBay, you have three selling options:
Auction
Fixed-price
Fixed-price with ability to accept offers
EBay is great because there are millions of collectors making their way through the site per day. And these sports card buyers are spending millions of dollars on trading cards per day! EBay's sports card collecting audience is vast and unmatched online.
However, you will need to be prepared to commit a bit of time and effort. For example, you will need to take photos of your cards and handle shipping yourself. This is quite easy to do using your phone camera for pictures and eBay shipping tools that help save time and streamline the process. The selling fees are also many times less than using a sports card auction house.
If you'd like to handle everything yourself, eBay is worth it.
Pros to Selling Sports Cards Using eBay:
Choice of sales format
Wide audience
Quick turnaround
Cons to Selling Sports Cards Using eBay:
Managing pictures and listings
Shipping and handling
How to Sell Sports Cards Using Private Online Auction Houses
There are many online auction houses that do nothing but sell old sports cards. Since they've been around for a while, you can imagine they're very efficient when it comes to selling cards. This works by cosigning your cards to a private auction house. Someone there will be responsible for selling your cards, taking pictures of them, shipping them to buyers, and collecting payments.
One of the major downsides is since there are so many different online auction houses, it can be difficult to know which ones are reliable. Also, some of them only hold auctions a select few times per year, so if you're looking to sell your cards soon, this might not be the option for you.
Pros
Your cards are promoted on their site
Collectors will already be waiting
You won't have to deal with shipping
Cons
Long time period to sell
Hard to find fixed-price selling formats
Potential to find an untrustworthy auction house
How to Sell Sports Cards Using Card Trading Stores
One of the main benefits of a card trading store is quick turnaround time – especially if you are selling pre-War or vintage cards. When you bring your cards to a shop, you have a face-to-face negotiation about the price. If you can reach an agreement, you'll sell your cards right then and there. Although, finding these shops isn't always the easiest task, since it seems like there are less and less every day.
Pros
Sell your cards quickly
No shipping
Negotiate price
Cons
Some untrustworthy dealers
Below market value prices
Difficult to find
How to Sell Sports Cards Using Sports Card Shows
Sports and Baseball card shows are a still a good way to sell your cards. Sports card shows have been around for decades as a method of selling cards. With online platforms such as eBay emerging, card shows have, for some, become a thing of the past. Sometimes, however, old-fashioned methods are the best methods.
Pros
Avoid higher selling fees associated with selling online
Face-to-face selling
Learn more about the market from your peers
Cons
COVID-19 could create roadblocks
More effort than selling online (setting up, bringing supplies, etc)
You will need to have some salesman skills
Conclusion
The good news is there are many resources out there for you to sell your cards. Once you find the selling method that suits your needs, you will be one step closer to making a profit on your collection. Good luck!
Written by Chris Keeley, Baseball-Trading-Cards.com Freelance Staff Writer