Here we spotlight Josh Jung 2019 Bowman Draft baseball card price values. The early market results have started to come in for the newly released 2019 Bowman Draft. Here's a Josh Jung early Top 5 "Most Expensive Baseball Cards" list guide.
n 2017, as a freshman at Texas Tech, Jung started all 62 games at third base, batting .306 with six home runs and 43 RBIs. He was named the Big 12 Freshman of the Year and was named a Freshman All-American by multiple outlets including Collegiate Baseball and Perfect Game/Rawlings. He was also named to the All-Big 12 Freshman Team and the All-Big 12 Second Team. That summer, he played in the California Collegiate League where he hit .368 with two home runs, 31 RBIs, and a .454 on-base percentage over 117 at-bats. As a sophomore in 2018, Jung once again started all 65 of Texas Tech's games at third base, slashing .392/.491/.639 with 12 home runs and 80 RBIs. He was named to the All-Big 12 First Team, and was once again named an All-American by outlets such as Baseball America and Collegiate Baseball. He played for the USA Baseball Collegiate National Team that summer.
Jung was named a preseason All-American by Perfect Game, Baseball America, D1Baseball.com, and Collegiate Baseball prior to his junior year. During the season, he missed two games due to a quadricep strain, ending his streak of 139 consecutive starts. After returning, he moved to shortstop. He was named the 2019 Big 12 Co-Player of the Year (along with Baylor's Davis Wendzel) after batting .333 with nine home runs and 49 RBIs through 49 games. He was named an All-American by Baseball America, D1Baseball.com, Perfect Game, ABCA, and NCBWA. Jung was the recipient of the 2019 Bobby Bragan Collegiate Slugger Award, which honors the top Division I baseball player within Texas, Arkansas, Louisiana, New Mexico and Oklahoma each season. Jung finished his junior year slashing .343/.474/.636 with 15 home runs and 58 RBIs in 64 games.
Considered one of the top prospects for the 2019 MLB draft, he was selected by the Texas Rangers in the first round, with the eighth overall pick.
On July 3, 2019, Jung signed with the Rangers for a $4.4 million signing bonus. On July 10, 2019, Jung made his professional debut with the Arizona League Rangers of the Rookie-level Arizona League, hitting a home run in his first professional at-bat. On July 15, Jung was promoted to the Hickory Crawdads of the Class A South Atlantic League, and hit .287/.363/.389/.752 with one home run and 23 RBI over 40 games for them.
1.) 2019 Bowman Draft Josh Jung Orange Refractor Auto 24/25 Rangers
2019-12-16 || Price Listed: $1999 *BOA [1,100.00]
2.) 2019 Bowman Chrome Draft Josh Jung Gold Refractor 1/50 Ebay 1/1 Texas Rangers
2019-12-03 || ] Price Listed: $1499 *BOA [850.00]
3.) Josh Jung 2019 Bowman Chrome Draft Black Refractor Auto SP 3/75
2019-12-07 || Price Listed : $1199.99 *BOA [700.00]
4.) 2019 Bowman Chrome Draft Josh Jung CDA-JJ Auto Gold Wave Refractor 39/50 Rangers
2019-12-12 || Price Listed: $799.99 *BOA [525.00]
5.) 2019 Bowman Chrome Draft Josh Jung Auto Blue Refractor /150 Rangers CDA-JJ 1st
2019-12-07 || Price Listed: $775 *BOA [500.00]
*BOA (Best Offer Accepted)
And for an even more robust Josh Jung baseball card price market analysis experience please take a moment to check out the NEW Baseball Card Price Charts feature. We've added real-time visual charts to our BTC baseball card price lookup web and mobile app.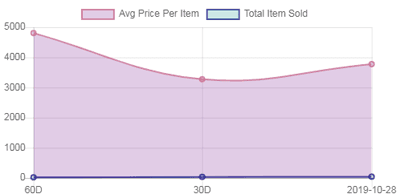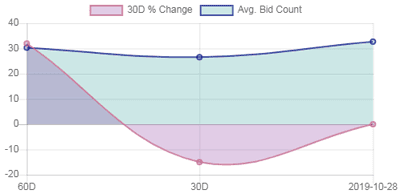 You can easily review 30-day and 60-day charting for % market gains and losses, Average Price Per Item and Average Bid Counts via our new visual data charts.
These are great visual data tools to use whether you are researching baseball cards to buy or sell. The app uses real-time market data and is FREE to use!
*All BTC list data sourced via Ebay.