Want to learn what baseball card values are highest? Here we review Gleyber Torres baseball card values via a Top 100 "Most Expensive Baseball Cards" list guide.
Gleyber David Castro Torres(Shop eBay) (born December 13, 1996) is a Venezuelan professional baseball second baseman and shortstop for the New York Yankees of Major League Baseball (MLB). He made his MLB debut on April 22, 2018.
Torres made his MLB debut on April 22, 2018, against the Toronto Blue Jays, going 0-for-4. The next day against the Minnesota Twins, Torres recorded his first MLB hit. On May 4, Torres hit his first career home run off Josh Tomlin. At 21 years old, Torres was the youngest Yankee to homer since John Ellis in 1969.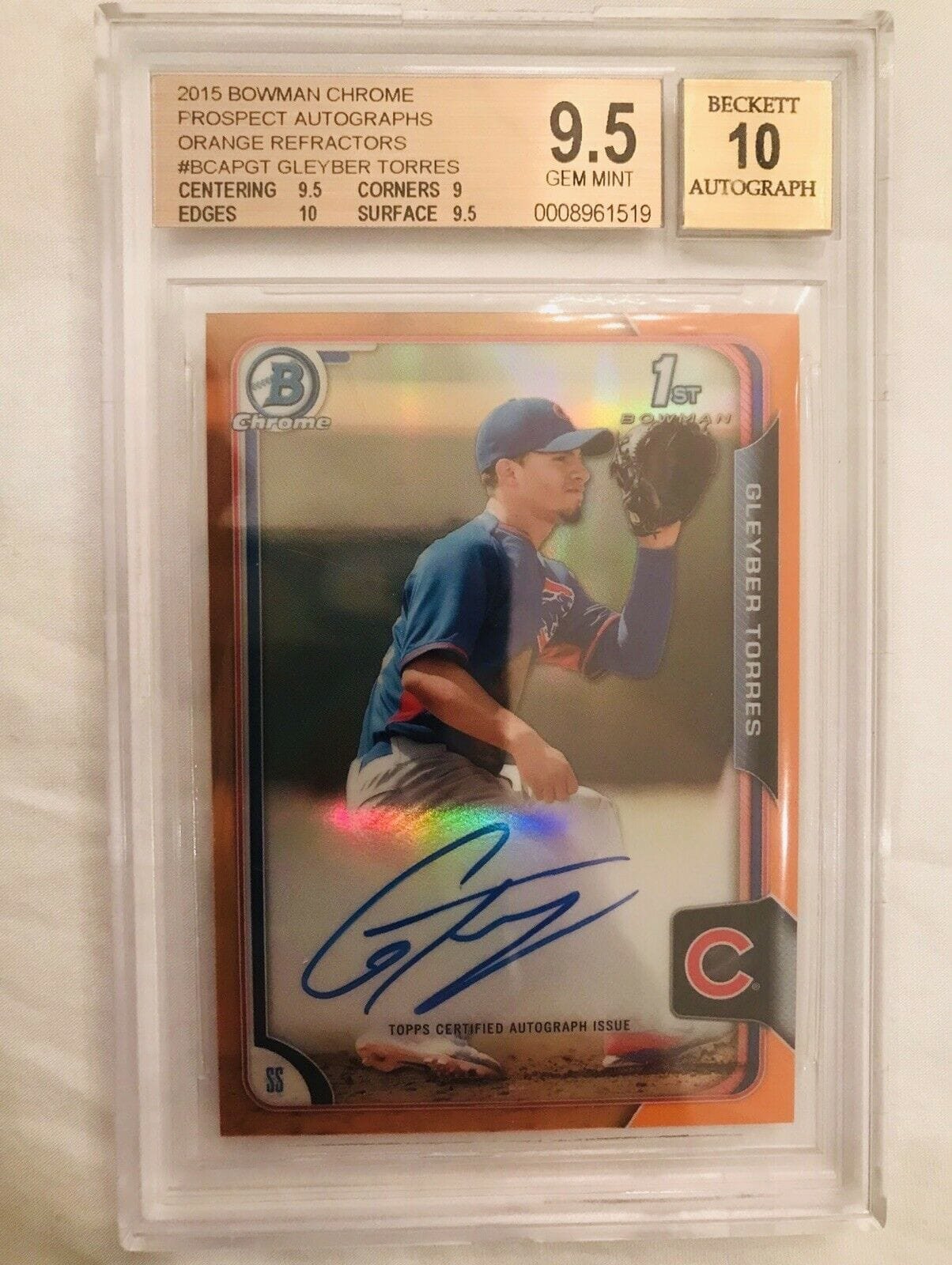 Top Card:  2015 Gleyber Torres Bowman Chrome Auto Orange RC /25 Refractor BGS 9.5/10
Price Sold: $10000
The Average Price per Card sold for Top 100 on the list is $ 1524.50 .
For a full list check out our "Most Expensive Baseball Cards" Baseball Card Values Market Analysis below.
---
2015 Gleyber Torres Bowman Chrome Auto Orange RC /25 Refractor BGS 9.5/10
Price Sold: $10000 || Date: 2019-08-13 Time: 16:13:15.000Z

2015 Bowman Chrome Gleyber Torres Rookie GOLD Refractor Auto /50 BGS 9.5 10 RC
Price Sold: $7000 || Date: 2019-08-13 Time: 15:38:30.000Z

2015 Bowman Chrome Gleyber Torres Gold Refractor Auto BGS 9.5/10
Price Sold: $6950 || Date: 2019-10-05 Time: 01:34:37.000Z

2015 Bowman Chrome Gold Gleyber Torres Auto RC BGS 9.5 Autograph True Gem+
Price Sold: $5100 || Date: 2019-07-28 Time: 20:23:28.000Z

2015 Bowman Chrome Gold Gleyber Torres BGS 9.5 Auto Autograph
Price Sold: $3399 || Date: 2019-07-25 Time: 02:18:35.000Z

2017 Bowman Chrome Draft Gleyber Torres Superfractor 1/1 BGS 9.5 BDC200
Price Sold: $2999 || Date: 2019-09-16 Time: 11:27:48.000Z

GLEYBER TORRES 2015 BOWMAN CHROME RC BLUE REFRACTOR AUTO SP #/150 BGS 9.5 GEM 10
Price Sold: $2999 || Date: 2019-10-13 Time: 19:55:57.000Z

2015 Bowman Chrome Blue Refractor GLEYBER TORRES RC AUTO /150 BGS 9.5 TRUE GEM
Price Sold: $2899 || Date: 2019-09-19 Time: 07:12:33.000Z

GLEYBER TORRES(Shop eBay) 2015 BOWMAN(Shop eBay) CHROME RC BLUE REFRACTOR AUTO SP #/150 BGS 9.5 GEM 10
Price Sold: $2799 || Date: 2019-10-05 Time: 17:51:53.000Z

AR 2015 Gleyber Torres Bowman Chrome Gold Refractor 17/50 RC Auto BGS 9/10 Mint
Price Sold: $2550 || Date: 2019-08-26 Time: 02:05:04.000Z

GLEYBER TORRES 2015 BOWMAN CHROME RC BLUE REFRACTOR AUTO SP #/150 BGS 9.5 GEM 10
Price Sold: $2499 || Date: 2019-08-21 Time: 11:20:31.000Z

2015 Bowman Chrome Prospect Gleyber Torres Blue Refractor RC AUTO PSA-10 #56/150
Price Sold: $2200 || Date: 2019-09-14 Time: 16:48:44.000Z

2018 #699 RC Rookie Topps(Shop eBay) Chrome Sapphire Red Gleyber Torres #08/10 PSA 9
Price Sold: $2104.99 || Date: 2019-09-13 Time: 01:33:50.000Z

GLEYBER TORRES 2015 Bowman Chrome Gold Refractor Auto 27/50 Yankees A13
Price Sold: $1999.99 || Date: 2019-09-19 Time: 13:53:53.000Z

BLACK LABEL 2018 Topps Chrome Purple Gleyber Torres RC AUTO /250 BGS 10 PRISTINE
Price Sold: $1999.99 || Date: 2019-10-02 Time: 23:32:45.000Z

2015 Bowman Chrome Refractor GLEYBER TORRES RC AUTO /499 BGS 9.5 / 10 TRUE GEM
Price Sold: $1999 || Date: 2019-10-12 Time: 14:12:48.000Z

🔥🔥🔥Gleyber Torres 2015 Bowman Chrome Blue Auto Refractor /150 🔥🔥🔥
Price Sold: $1999 || Date: 2019-08-24 Time: 02:05:52.000Z

GLEYBER TORRES 2015 BOWMAN CHROME GREEN REFRACTOR AUTO ROOKIE /99 BGS 9.5 10 PSA
Price Sold: $1995 || Date: 2019-09-18 Time: 01:15:24.000Z

2018 Topps Heritage Black Border #603 Gleyber Torres Rc SP /50 PSA 10 *POP 3*
Price Sold: $1995 || Date: 2019-10-11 Time: 16:52:31.000Z

2015 GLEYBER TORRES BOWMAN(Shop eBay) CHROME PURPLE REFRACTOR AUTO ROOKIE PSA 10!!!
Price Sold: $1850 || Date: 2019-10-13 Time: 02:13:39.000Z

GLEYBER TORRES 2015 BOWMAN CHROME GREEN REFRACTOR AUTO ROOKIE /99 BGS 9.5 10 PSA
Price Sold: $1860 || Date: 2019-10-13 Time: 22:54:29.000Z

2015 Gleyber Torres(Shop eBay) Bowman Chrome Green Refractor Auto /99 BGS 9.5 True Gem
Price Sold: $1850 || Date: 2019-09-07 Time: 16:23:27.000Z

GLEYBER TORRES 2015 Bowman Chrome Blue Refractor Autograph BGS 9.5 9.5/10 /150
Price Sold: $1850 || Date: 2019-09-09 Time: 02:40:11.000Z

GLEYBER TORRES 2017 Bowman's Best SUPERFRACTOR RC Auto Autograph 1/1 BGS 9.5 Gem
Price Sold: $1799.99 || Date: 2019-09-14 Time: 16:04:23.000Z

2015 Bowman Chrome Gleyber Torres Green Refractor Auto /99 BGS 9.5 Gem Mint
Price Sold: $1799 || Date: 2019-10-10 Time: 03:26:13.000Z

GLEYBER TORRES 2015 BOWMAN CHROME GREEN REFRACTOR AUTO ROOKIE 86/99 BGS 9.5 10
Price Sold: $1700 || Date: 2019-09-09 Time: 02:44:45.000Z

Gleyber Torres 2018 Topps Heritage Real One Red Ink Auto RC /69 BGS 9.5 True Gem
Price Sold: $1599.99 || Date: 2019-09-26 Time: 01:58:47.000Z

2015 Bowman Chrome Gleyber Torres Auto NY Yankees RC BGS 10 Auto 10 Pristine!!
Price Sold: $1599.95 || Date: 2019-10-13 Time: 03:57:57.000Z

2017 Bowman Chrome Gleyber Torres BGS Black Label 10/10 Auto
Price Sold: $1499 || Date: 2019-08-29 Time: 01:20:17.000Z

PSA 10 Gleyber Torres 2018 Topps Update SSP Batting In Gray RC Variation US200
Price Sold: $1499.99 || Date: 2019-09-25 Time: 23:42:47.000Z

2015 Bowman Chrome Blue Refractor Gleyber Torres ROOKIE /150 PSA 9 AUTO 10 RC
Price Sold: $1500 || Date: 2019-10-10 Time: 04:38:22.000Z

2018 TOPPS CHROME ORANGE /25 ROOKIE PSA 10 AUTO GLEYBER TORRES YANKEES
Price Sold: $1499.99 || Date: 2019-09-21 Time: 14:49:45.000Z

2018 TOPPS CHROME ORANGE /25 ROOKIE PSA 10 AUTO GLEYBER TORRES YANKEES
Price Sold: $1499.99 || Date: 2019-10-04 Time: 20:25:13.000Z

2015 Bowman 1st Chrome Printing Plate Autograph Gleyber Torres RC Auto 1/1 Hot!
Price Sold: $1435 || Date: 2019-09-14 Time: 21:57:02.000Z

Gleyber Torres 2018 Topps(Shop eBay) Heritage Auto RC Real One RED INK #'d/69 PSA 10
Price Sold: $1300 || Date: 2019-08-18 Time: 13:16:03.000Z

GLEYBER TORRES 2015 BOWMAN CHROME PURPLE REFRACTOR AUTO ROOKIE /250 BGS 9.5 10
Price Sold: $1295 || Date: 2019-10-13 Time: 03:24:35.000Z

2019 Topps Tier One Baseball Gleyber Torres Limited Lumber Bat Auto 1/1 Yankees
Price Sold: $1299.99 || Date: 2019-07-24 Time: 18:50:12.000Z

2019 Topps Tier One Baseball Gleyber Torres Limited Lumber Bat Auto 1/1 Yankees
Price Sold: $1299.99 || Date: 2019-08-12 Time: 20:58:28.000Z

PSA 10 – 2015 Bowman Chrome Prospects Gleyber Torres #BCAP-GT Autograph Auto 10
Price Sold: $1299.95 || Date: 2019-08-23 Time: 23:36:44.000Z

2015 Gleyber Torres Bowman Chrome Green Refractor Auto /99 BGS 9.5 Yankees!
Price Sold: $1225 || Date: 2019-08-17 Time: 21:42:22.000Z

2018 TOPPS CHROME SAPPHIRE RC GLEYBER TORRES #699 YANKEES ROOKIE PSA 10
Price Sold: $1200.95 || Date: 2019-09-11 Time: 21:23:24.000Z

GLEYBER TORRES 1/1 ROOKIE AUTO JERSEY PATCH SUPERFRACTOR RC 2018 BOWMAN CHROME
Price Sold: $1200 || Date: 2019-09-19 Time: 03:29:43.000Z

Gleyber Torres 2015 Bowman Chrome Prospect Green Refractor Auto Autograph(Shop eBay) 65/99
Price Sold: $1200 || Date: 2019-08-26 Time: 03:48:03.000Z

Gleyber Torres 2015 Bowman(Shop eBay) Chrome Prospect Green Refractor Auto Autograph 65/99
Price Sold: $1200 || Date: 2019-08-27 Time: 21:24:45.000Z

2018 Topps Heritage High Number GLEYBER TORRES RC Black #36/69 607/699 purple hb
Price Sold: $1200 || Date: 2019-10-08 Time: 20:40:16.000Z

2018 Topps Chrome Gleyber Torres Orange Auto #/25 BGS 9.5/10 TRUE GEM MINT+
Price Sold: $1100 || Date: 2019-10-13 Time: 02:44:20.000Z

2018 Topps Factory GLEYBER TORRES NY Yankees rc #699 FOILBOARD 042/190 PSA 10
Price Sold: $1100 || Date: 2019-10-14 Time: 00:44:51.000Z

BGS 9.5 2015 BOWMAN CHROME AUTO PURPLE REFRACTOR GLEYBER TORRES RC #250 4 x 9.5s
Price Sold: $1099.99 || Date: 2019-08-14 Time: 04:27:57.000Z

2018 topps chrome update #hmt9 gleyber torres rc; red refractor ssp 9/25 bgs 9.5
Price Sold: $1099.99 || Date: 2019-10-13 Time: 02:20:35.000Z

GLEYBER TORRES 2018 TOPPS CHROME UPDATE AUTOGRAPH GOLD REF 14/50 BGS 10
Price Sold: $1099 || Date: 2019-09-03 Time: 20:27:39.000Z

2015 Bowman Chrome Gleyber Torres Green Refractor Auto /99 BGS 9.5/10 Yankees!
Price Sold: $1075.5 || Date: 2019-08-16 Time: 22:01:12.000Z

2018 Bowman Chrome GLEYBER TORRES SUPERFRACTOR Relic Auto1/1 YANKEES 🔥🔥
Price Sold: $1080.99 || Date: 2019-08-01 Time: 17:18:57.000Z

2018 TOPPS CHROME SAPPHIRE #699 GLEYBER TORRES RC BLUE REFRACTOR YANKEES PSA 10!
Price Sold: $1076 || Date: 2019-09-10 Time: 03:30:33.000Z

2018 Topps Update Gleyber Torres Black #/67 PSA 9
Price Sold: $1050 || Date: 2019-10-13 Time: 21:35:39.000Z

2018 Topps Update Gleyber Torres US200 Batting Gray SSP Rookie Yankees PSA 10 RC
Price Sold: $1000 || Date: 2019-09-08 Time: 18:18:39.000Z

2018 Topps Heritage High Number Gleyber Torres #THC-603 Black #38/69 PSA-9 Mint
Price Sold: $1000 || Date: 2019-08-29 Time: 02:30:21.000Z

2018 Bowman's Best Red Refractor #50 Gleyber Torres Rc /10 BGS 10 Black Label
Price Sold: $1000 || Date: 2019-08-20 Time: 19:55:26.000Z

GLEYBER TORRES 2015 BOWMAN CHORME ROOKIE AUTOGRAPH AUTO PSA 10 YANKEES
Price Sold: $999.95 || Date: 2019-08-17 Time: 13:34:00.000Z

Gleyber Torres 2018 Topps Update US200 Hot Pink/50 PSA 10 POP 3 MLB!!!
Price Sold: $999.99 || Date: 2019-10-01 Time: 00:46:45.000Z

PSA 10 GLEYBER TORRES 2017 BOWMAN CHROME RC AUTO /25 ATOMIC REFRACTOR YANKEES RC
Price Sold: $999.99 || Date: 2019-10-10 Time: 19:15:08.000Z

2018 Topps Heritage High # GLEYBER TORRES RC Black Chrome Refractor #/69 THC-603
Price Sold: $999.95 || Date: 2019-09-05 Time: 04:11:26.000Z

GLEYBER TORRES 2017 TOPPS HERITAGE REAL ONE RC AUTO #/25 BGS 9.5!!!
Price Sold: $999 || Date: 2019-09-14 Time: 21:58:10.000Z

2018 Topps(Shop eBay) Chrome Rookie Autographs(Shop eBay) Red Wave Refractors #RAGT Gleyber Torres 5/5
Price Sold: $999 || Date: 2019-09-26 Time: 16:23:37.000Z

2015 Bowman Chrome Purple Refractor Gleyber Torres Rc /250 BGS 9.5 Auto 10
Price Sold: $989.88 || Date: 2019-10-13 Time: 11:41:51.000Z

2018 Topps Heritage GLEYBER TORRES Chrome Black Refractor #d/69 PSA 10
Price Sold: $949.99 || Date: 2019-08-21 Time: 02:11:39.000Z

2018 Topps GLEYBER TORRES Pristine rc 699 ROOKIE SPARKLE FOILBOARD 82/190 BGS 10
Price Sold: $942.77 || Date: 2019-10-05 Time: 02:19:50.000Z

2015 Bowman(Shop eBay) Chrome Gleyber Torres Green Refractor RC Auto /99 BGS 9.5
Price Sold: $900 || Date: 2019-09-05 Time: 00:03:33.000Z

2015 Bowman Chrome Gleyber Torres RC Rookie 1/1 Cyan Plate BGS 8 w/ 10 AUTO
Price Sold: $910 || Date: 2019-08-20 Time: 03:08:43.000Z

2018 Topps(Shop eBay) Chrome Sapphire Gleyber Torres #699 BGS 9.5 Gem Mint RC
Price Sold: $899.99 || Date: 2019-09-10 Time: 12:28:48.000Z

2013 Elite Extra Edition Emerald Status Gleyber Torres RC AUTO 3/25 PSA 10 POP 2
Price Sold: $899.99 || Date: 2019-10-13 Time: 02:15:53.000Z

2018 topps chrome update #hmt9 gleyber torres rc; red refractor ssp 15/25 psa 10
Price Sold: $899.99 || Date: 2019-10-11 Time: 00:28:18.000Z

2015 Bowman Chrome Green Refractor Gleyber Torres ROOKIE RC AUTO /99 (PWCC)
Price Sold: $860 || Date: 2019-08-19 Time: 02:13:50.000Z

2018 Topps Update Father's Day Blue Gleyber Torres Yankees RC Rookie BGS 9.5
Price Sold: $860 || Date: 2019-09-06 Time: 02:47:12.000Z

2018 Topps Update Gleyber Torres Batting SSP PSA 10 GEM MINT
Price Sold: $850 || Date: 2019-10-13 Time: 02:20:39.000Z

BGS 9.5 AUTO 10 GLEYBER TORRES 2015 BOWMAN CHROME PURPLE REFRACTOR /250 GEM MINT
Price Sold: $850 || Date: 2019-08-15 Time: 01:43:30.000Z

2015 Bowman Chrome REFRACTOR Gleyber Torres Cubs RC Rookie AUTO /499 BGS 9.5
Price Sold: $825 || Date: 2019-10-12 Time: 01:47:56.000Z

GLEYBER TORRES 2015 Bowman Chrome Refractor Autograph BGS 10 Pristine 10/10 /499
Price Sold: $820 || Date: 2019-09-09 Time: 02:40:11.000Z

2015 BOWMAN CHROME PROSPECTS BLUE REFRACTOR AUTO GLEYBER TORRES /150 BGS 9 MINT
Price Sold: $825 || Date: 2019-09-30 Time: 02:00:09.000Z

GLEYBER TORRES 2016 BOWMAN'S BEST TOP PROSPECTS RED REFRACTOR / 5 PSA 10 YANKEES
Price Sold: $800 || Date: 2019-09-14 Time: 08:53:16.000Z

#10/25 Aaron Judge(Shop eBay) Gleyber Torres 2018 Topps Heritage Auto High Number Yankees
Price Sold: $799.99 || Date: 2019-09-07 Time: 16:08:31.000Z

2018 Topps Chrome Rookie Autographs(Shop eBay) Red Wave Refractors #RAGT Gleyber Torres 5/5
Price Sold: $800 || Date: 2019-10-09 Time: 02:30:05.000Z

2015 Bowman Chrome REFRACTOR AUTO Gleyber Torres #041/499 – BGS GEM MINT 9.5/10!
Price Sold: $799.99 || Date: 2019-10-13 Time: 02:18:33.000Z

2018 Topps Update #US200 Gleyber Torres Rookie Black Parallel #/67 RARE RC SSP!!
Price Sold: $775 || Date: 2019-07-25 Time: 22:04:28.000Z

Gleyber Torres 2018 Topps Heritage Real One Red Ink Auto RC /69 BGS 9.5/10 Gem
Price Sold: $775 || Date: 2019-08-03 Time: 03:37:51.000Z

Gleyber Torres RC 2018 Topps Chrome Sapphire Ed. Auto Red Ref #7/10 PSA 10
Price Sold: $765 || Date: 2019-08-11 Time: 05:14:01.000Z

2018 Topps Stadium Club Gleyber Torres RAINBOW ROOKIE Auto 5/10!!!
Price Sold: $1000 || Date: 2019-08-05 Time: 15:40:44.000Z

Aaron Judge(Shop eBay)/Gleyber Torres 2018 Topps Update All Star Dual Auto/Relic /5 BGS
Price Sold: $749.99 || Date: 2019-10-04 Time: 23:30:08.000Z

2018 Topps Heritage Chrome Black Refractor Gleyber Torres RC Rookie 56/69 PSA 10
Price Sold: $755 || Date: 2019-10-10 Time: 03:09:37.000Z

2018 TOPPS CHROME SAPPHIRE EDITION #699 GLEYBER TORRES RC YANKEES PSA 10
Price Sold: $750 || Date: 2019-10-01 Time: 18:55:13.000Z

2017 Bowman Chrome Gleyber Torres Blue Refractor RC Rookie Auto /150 BGS 10 10
Price Sold: $739 || Date: 2019-10-13 Time: 16:35:58.000Z

GLEYBER TORRES 2015 BOWMAN CHROME ROOKIE REFRACTOR AUTO SP #/499 BGS 9.5 GEM 10
Price Sold: $729 || Date: 2019-09-10 Time: 04:02:42.000Z

Gleyber Torres 2015 Bowman Chrome Auto Refractor BGS 9.5/10 Yankees
Price Sold: $719 || Date: 2019-10-13 Time: 02:20:35.000Z

2015 Bowman Chrome Baseball Gleyber Torres Purple Refractor Auto /250 Yankees
Price Sold: $725 || Date: 2019-10-09 Time: 20:43:07.000Z

Gleyber Torres 2015 Bowman Chrome AUTO RC New York Yankees ROOKIE BGS 9.5/10!!!!
Price Sold: $699.99 || Date: 2019-10-13 Time: 07:09:41.000Z

2015 Bowman Chrome Gleyber Torres Refractor Auto #/499 BGS 9.5 TRUE GEM MINT+
Price Sold: $700 || Date: 2019-09-11 Time: 00:28:48.000Z

Gleyber Torres 2015 Bowman Chrome Prospect Chicago Cubs Autograph(Shop eBay) PSA 10 Auto 10
Price Sold: $679 || Date: 2019-08-20 Time: 01:48:28.000Z

GLEYBER TORRES 2017 Bowman Chrome Auto Gold Shimmer Refractor RC 4/50 BGS 9.5
Price Sold: $649 || Date: 2019-10-13 Time: 12:30:23.000Z

2018 TOPPS UPDATE GLEYBER TORRES FIELDING IN GRAY SSP VARIATION #US200 PSA 10!
Price Sold: $649.99 || Date: 2019-10-10 Time: 17:53:07.000Z

2017 BOWMAN CHROME GLEYBER TORRES ORANGE REFRACTOR AUTO #/25 BGS 9/10! ROY!!
Price Sold: $649 || Date: 2019-07-24 Time: 02:32:01.000Z

2015 Bowman Chrome Gleyber Torres RC Auto BGS 9.5/10 TRUE GEM HOT !!!!!!!!
Price Sold: $628.88 || Date: 2019-10-13 Time: 12:44:59.000Z

Total Count: 100 — Total Entries:
Avg Price Per Item: 1524.5054 —