Baseball-Trading-Cards.com is your top destination for Ronald Acuna baseball card values and advanced price analysis.
Ronald José Acuña Blanco Jr. (born December 18, 1997) is a Venezuelan professional baseball outfielder for the Atlanta Braves of Major League Baseball (MLB). He made his MLB debut in 2018, and won the National League Rookie of the Year Award.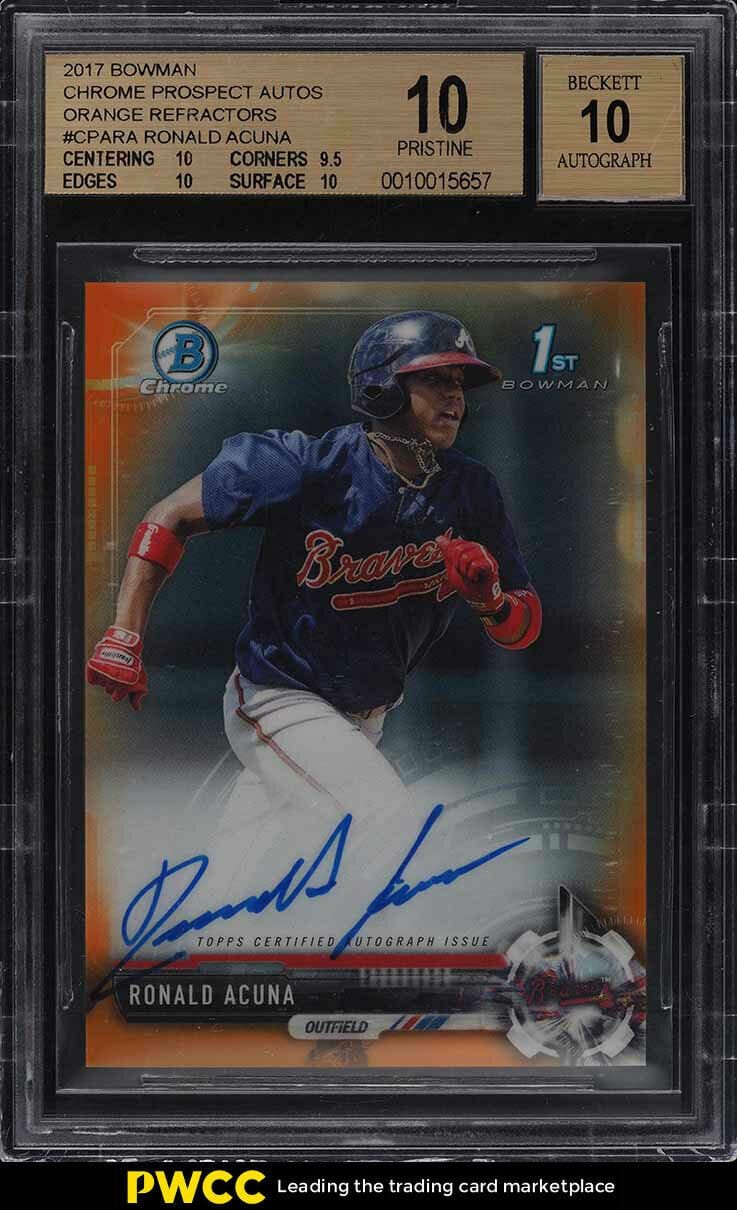 Top Card: 2017 Bowman(Shop eBay) Chrome Orange Refractor Ronald Acuna ROOKIE AUTO /25 BGS 10 (PWCC)
Price Sold: $47356
The Average Price per Card sold for Top 100 on the list is $6997.52.
Discover your baseball and sports card prices using our FREE BTC Card Price Lookup App today. Our robust real-time visual charts provide advanced market analysis and are great tools for buyers, sellers, and baseball card collectors of any style.
For a full list check out our "Most Expensive Baseball Cards" Baseball Card Values Market Analysis below.
---
---
Acuna Lot
Price Sold: $32000 || Date: 2019-09-09 Time: 03:21:04.000Z

2017 Bowman Chrome Blue 70th Refractor Ronald Acuna Jr(Shop eBay) Auto BGS 10 BLACK LABEL
Price Sold: $21500 || Date: 2019-08-21 Time: 13:35:59.000Z

2017 Bowman Chrome 70th Blue Refractor Ronald Acuna RC AUTO BGS 10 BLACK (PWCC)
Price Sold: $14360 || Date: 2019-09-19 Time: 02:44:01.000Z

2017 Bowman Chrome Blue Refractor Ronald Acuna Braves RC AUTO /150 BGS 9.5
Price Sold: $10900 || Date: 2019-09-20 Time: 03:59:38.000Z

🔥3 Ct Lot 2017 bowman(Shop eBay) chrome ronald acuna auto psa 10🔥
Price Sold: $10500 || Date: 2019-08-23 Time: 15:26:59.000Z

2017 Bowman Chrome Ronald Acuna GOLD SHIMMER Ref 13/50 BGS 9.5 Auto 10 Jersey #!
Price Sold: $9999.99 || Date: 2019-08-14 Time: 21:28:15.000Z

2017 Bowman Chrome RONALD ACUNA 70th Blue Refractor RC AUTO BGS 9.5 True GEM+💎
Price Sold: $9999.95 || Date: 2019-08-16 Time: 23:13:26.000Z

2017 Bowman Chrome Ronald Acuna Gold Shimmer Auto /50 TRUE GEM 9.5/10
Price Sold: $8999.99 || Date: 2019-08-25 Time: 22:56:05.000Z

RONALD ACUNA 2018 TOPPS(Shop eBay) UPDATE FATHERS DAY POWDER BLUE PSA 10 /50 POP 2
Price Sold: $7999.99 || Date: 2019-08-31 Time: 16:14:16.000Z

2017 Bowman Chrome Blue Refractor RC Ronald Acuna Braves RC /150 BGS 9.5 Auto 10
Price Sold: $8000 || Date: 2019-09-30 Time: 02:06:01.000Z

RONALD ACUNA BGS 9.5 2017 BOWMAN CHROME BLUE REFRACTOR AUTO AUTOGRAPH(Shop eBay) /150 BRAVE
Price Sold: $7499.99 || Date: 2019-09-15 Time: 16:49:41.000Z

2018 Bowman Chrome Ronald Acuna RED Refractor RC AUTO 3/5 BGS 9.5/10 GEM MINT
Price Sold: $6999.99 || Date: 2019-09-15 Time: 00:18:12.000Z

2017 Topps Heritage Minors RONALD ACUNA Auto ROA 1st name Omission ERROR PSA 10
Price Sold: $6969.69 || Date: 2019-09-03 Time: 02:35:46.000Z

2017 Bowman(Shop eBay) Chrome Ronald Acuna Green Auto Refractor #'d / 99 BGS Quad 9.5
Price Sold: $6499.69 || Date: 2019-09-25 Time: 16:06:24.000Z

Ronald Acuna 2017 Bowman(Shop eBay) Chrome Prospect Autos Orange Shimmer Refractors /25
Price Sold: $6500 || Date: 2019-08-13 Time: 15:25:53.000Z

Ronald Acuna 2016 Topps(Shop eBay) Heritage Black Border 1/1 Auto Rare Rookie PSA, 1st Card
Price Sold: $6500 || Date: 2019-09-17 Time: 05:23:39.000Z

RONALD ACUNA 2017 Bowman Chrome Gold Shimmer Auto /50 TRUE GEM 9.5+
Price Sold: $6000 || Date: 2019-09-18 Time: 23:47:27.000Z

2018 Topps Heritage Chrome RONALD ACUNA Black Refractor RC /69 PSA 10 GEM Braves
Price Sold: $5999 || Date: 2019-08-28 Time: 06:15:35.000Z

2017 Ronald Acuna Green Bowman Chrome Auto BGS 10/10 Pristine Refractor
Price Sold: $5999.99 || Date: 2019-08-26 Time: 15:44:46.000Z

2017 Bowman Chrome Ronald Acuna Prospect Green Ref Auto /99 BGS True Gem W/10
Price Sold: $5999.99 || Date: 2019-09-17 Time: 14:45:21.000Z

2017 Bowman Chrome Ronald Acuna Jr. Purple Refractor Auto # /250 PSA 10 GEM MINT
Price Sold: $5999 || Date: 2019-08-25 Time: 08:13:48.000Z

2017 Bowman Chrome Ronald Acuna Green Refractor SP /99 Auto RC PSA 10 Auto
Price Sold: $5999 || Date: 2019-08-27 Time: 02:33:55.000Z

2017 Bowman Chrome Ronald Acuna Jr(Shop eBay). Purple Refractor Auto # /250 PSA 10 GEM MINT
Price Sold: $5999 || Date: 2019-08-29 Time: 20:53:31.000Z

2018 Topps Update Photo Variation #US250B Ronald Acuna White Jersey SSP BGS 9.5
Price Sold: $5995 || Date: 2019-08-25 Time: 12:50:55.000Z

2017 Bowman Chrome Green Shimmer Refractor Ronald Acuna Jr Auto BGS 9.5 #'d /99
Price Sold: $5899.99 || Date: 2019-09-08 Time: 02:15:47.000Z

2017 Bowman Chrome Ronald Acuna Gold Shimmer AUTO BGS 10 Pristine /50 RC Rookie
Price Sold: $5799.99 || Date: 2019-08-12 Time: 00:22:49.000Z

2017 BOWMAN CHROME RONALD ACUNA GREEN REFRACTOR 24/99 AUTO BGS 9.5 TRUE GEM
Price Sold: $5702 || Date: 2019-09-24 Time: 00:45:23.000Z

2017 Bowman Chrome Ronald Acuna Green Refractor SP /99 Auto RC BGS 9.5/10 Auto
Price Sold: $5499 || Date: 2019-08-21 Time: 01:59:37.000Z

Ronald Acuna Bowman Chrome 2017 Auto /250 Purple Refractor BGS Pristine 10/10
Price Sold: $5500 || Date: 2019-09-14 Time: 00:30:50.000Z

Ronald Acuna 2017 Bowman chrome prospect gold shimmer refractor auto /50 BGS 9.5
Price Sold: $5502 || Date: 2019-10-01 Time: 03:33:10.000Z

2017 Bowman Chrome Ronald Acuna GOLD SHIMMER Ref 13/50 BGS 9.5 Auto 10 Jersey #!
Price Sold: $5353 || Date: 2019-09-25 Time: 02:00:01.000Z

2017 Bowman Chrome Ronald Acuna Green Refractor RC Auto /99 BGS 10 Pristine
Price Sold: $5400 || Date: 2019-08-28 Time: 02:40:38.000Z

2017 Bowman Chrome RONALD ACUNA Green Refractor Auto /99 BGS 9.5/10 TRUE+
Price Sold: $5299.99 || Date: 2019-09-06 Time: 18:19:11.000Z

RONALD ACUNA 2017 Bowman Chrome Gold Shimmer Auto /50 TRUE GEM 9.5+
Price Sold: $5100 || Date: 2019-09-17 Time: 01:21:24.000Z

🔥2017 BOWMAN CHROME AUTO PURPLE REFRACTOR RONALD ACUNA RC #59/250 PSA 10🔥MvP!
Price Sold: $5199 || Date: 2019-08-23 Time: 15:30:52.000Z

2018 Bowman Chrome Ronald Acuna Jr. Red Refractor /5 Rookie Card PSA 10 Gem Mint
Price Sold: $4999 || Date: 2019-07-25 Time: 21:48:01.000Z

2018 Topps(Shop eBay) Chrome Sapphire Edition Rookie #698 Ronald Acuna RC PSA 10 Gem Mint
Price Sold: $4999.99 || Date: 2019-09-14 Time: 15:53:30.000Z

2018 Topps(Shop eBay) Update Ronald Acuna Jr US250 RC Memorial Camo #/25 BGS 9.5 SSP ROOKIE
Price Sold: $4999.99 || Date: 2019-08-25 Time: 16:36:49.000Z

2018 TOPPS CHROME SILVER PACK ORANGE REFRACTOR AUTO /25 RONALD ACUNA RC BGS 9.5
Price Sold: $4999.99 || Date: 2019-09-30 Time: 03:06:21.000Z

2017 Elite Extra Edition EEE RONALD ACUNA ~GEM MINT BGS 9.5 TIE DYE AUTO /10~
Price Sold: $4999.99 || Date: 2019-09-15 Time: 13:47:03.000Z

2018 Topps Chrome Ronald Acuna RC Red Wave Refractors Auto 2/5 PSA 10 Gem AU/10
Price Sold: $4995 || Date: 2019-08-16 Time: 21:11:30.000Z