Driving Sports Card Value 2021
Driving sports card value 2021 is not all about the stats. The team a player plays for, the sport, the press, college pedigree, the player's public image persona and likability, in addition to many more intangible traits all play a role.
However, at the heart of sports card price ascension is the statistics behind the player.
What's important, many times, is that a rookie get out of the gate on an encouraging note. As a result, the player positively "brands" their image to collectors and sets forth the opportunity for card value to trend in a promising direction.
And playing minutes are integral toward showcasing talents and building statistics. And not all 2021 NBA rookies are going to get playing minutes to begin the season.
It could be reasoned that playing time as a rookie is vital towards a rookie card's speedy rise of value.
With all this in mind let's review how the early 2020 NBA draft picks are faring from a statistical standpoint.
2021 NBA Rookie Minutes and Games Played
So who's playing?
There's a handful of 2021 rookies playing close to 25 minutes or more per game. Tyrese Haliburton leads the way with Jae'Sean Tate, Anthony Edwards, Patrick Williams, Deni Avdja, LaMelo Ball right behind.
Boston Celtic Payton Pritchard is next and rising. Pritchard is earning coach Brad Stevens' trust and procuring relevant minutes with Kemba Walker sidelined.
Tyrese Haliburton SAC 26.86 MP || 5 GP
Jae'Sean Tate HOU 25.73 5 MP || 5 GP
Anthony Edwards MIN 25.00 MP || 5 GP
Patrick Williams CHI 24.86 MP || 7 GP
Deni Avdija WAS 24.77 MP || 7 GP
LaMelo Ball CHA 24.05 MP || 7 GP
Payton Pritchard BOS 23.18 MP || 8 GP
Desmond Bane MEM 23.06 MP || 6 GP
Saddiq Bey DET 22.02MP || 6 GP
James Wiseman GSW 21.68 MP || 7 GP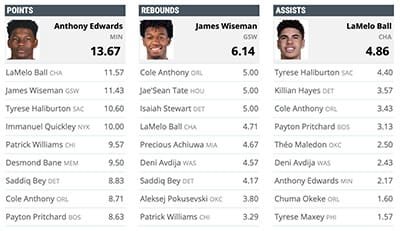 2021 NBA Rookie Statistics
Who's been productive with these minutes?
Tyrese Haliburton and Payton Pritchard have been stacking the box score with their play. They both are present across six statistical 2021 NBA rookie leader boards.
Both LaMelo Ball and Deni Avdija have been helping there teams. Each show up five times in the statistical rookie leader lists.
James Wiseman and Cole Anthony have had plenty of press and are living up to it. They both show up four times in the rookie leader boards.
The top 2020 NBA draft pick Anthony Edwards is progressing and leads all rookies in scoring at 13.67 points a game.
Our Early 2021 NBA Rookie Sports Card Picks
Payton Pritchard. Payton is getting the playing time and producing. And his basketball cards are still under the radar at this time. Pritchard has the college pedigree (Bob Cousy 2020 NCAA winner), the opportunity, and the early stats to command a rise in sports card value. Add in the fact that he plays for such an elite franchise brand in the Boston Celtics… all the earmarks are there for success.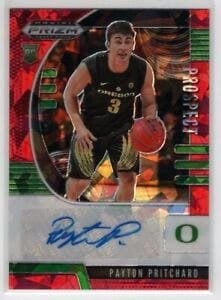 LaMelo Ball. The expectations were certainly lofty for this lad, but LaMelo is living up to them. Ball represents the number two rookie in minutes played and shows up five times in the rookie statistical leader boards. LaMelo is 2nd in points scored and efficiency, 1st in assists and steals, and 5th in rebounding. Ball showcases all the talents for a perennial all-star NBA career.
James Wiseman. Talk about opportunity. James was drafted by the uber talented Golden State Warriors and currently part of the starting five. Wiseman is 1st in rebounding and blocks and 3rd in points scored and efficiency. No surprise that his sports cards are already in high demand. And with all that talent surrounding him, Wiseman should continue to post productive numbers.
Honorable Mentions
Tyrese Haliburton and Deni Avdija. Both of these rookies are playing and producing.
Playing for the Sacramento Kings doesn't excite collectors, so we're currently fading Tyrese a bit. However, if Haliburton keeps putting numbers up, he will be hard for collectors to ignore.
Deni Avdija just hasn't generated a lot of collector excitement. It's likely justified being drafted as a relatively unknown International player. As Deni continues to fill box scores collectors should take notice.
Cole Anthony. Sleeper here. Drafted out a North Carolina, a college known for producing NBA stars (Michael Jordan), Cole already has that collector "swag" as his card demand is robust. Playing in Orlando somewhat tempers our enthusiasm, but his early statistical contributions are supporting collector fervor for Cole Anthony basketball cards.
2021 NBA Rookie Stats Leader Board
POINTS
Anthony Edwards MIN 13.67
LaMelo Ball CHA 11.57
James Wiseman GSW 11.43
Tyrese Haliburton SAC 10.60
Immanuel Quickley NYK 10.00
Patrick Williams CHI 9.57
Desmond Bane MEM 9.50
Saddiq Bey DET 8.83
Cole Anthony ORL 8.71
Payton Pritchard BOS 8.63
REBOUNDS
James Wiseman GSW 6.14
Cole Anthony ORL 5.00
Jae'Sean Tate HOU 5.00
Isaiah Stewart DET 5.00
LaMelo Ball CHA 4.71
Precious Achiuwa MIA 4.67
Deni Avdija WAS 4.57
Saddiq Bey DET 4.17
Aleksej Pokusevski OKC 3.80
Patrick Williams CHI 3.29
ASSISTS
LaMelo Ball CHA 4.86
Tyrese Haliburton SAC 4.40
Killian Hayes DET 3.57
Cole Anthony ORL 3.43
Payton Pritchard BOS 3.13
Théo Maledon OKC 2.50
Deni Avdija WAS 2.43
Anthony Edwards MIN 2.17
Chuma Okeke ORL 1.60
Tyrese Maxey PHI 1.57
Blocks
James Wiseman GSW 1.71
Patrick Williams CHI 1.14
Aleksej Pokusevski OKC 1.00
Isaiah Stewart DET 1.00
Daniel Oturu LAC 0.50
Steals
LaMelo Ball CHA 1.86
Payton Pritchard BOS 1.38
Deni Avdija WAS 1.29
Devin Vassell SAS 1.00
Aleksej Pokusevski OKC 1.00
Efficiency
Tyrese Haliburton SAC 14.20
LaMelo Ball CHA 14.14
James Wiseman GSW 12.29
Deni Avdija WAS 12.00
Payton Pritchard BOS 10.38
Field goals (%)
Precious Achiuwa MIA 60.00
Payton Pritchard BOS 54.00
Tyrese Haliburton SAC 52.94
Deni Avdija WAS 48.65
Jae'Sean Tate HOU 48.15
3-pointers (%)
Sam Merrill MIL 80.00
Jaden McDaniels MIN 60.00
Facundo Campazzo DEN 54.55
Desmond Bane MEM 50.00
Tyrese Haliburton SAC 50.00
Free throws (%)
Immanuel Quickley NYK 100.00
Cole Anthony ORL 95.00
Jordan Nwora MIL 87.50
Payton Pritchard BOS 87.50
Tyrese Haliburton SAC 87.50
Additionally, here's a link to a site that tracks rookie statistics.