You just hit the big time and stumbled upon a vintage rookie Tom Brady card while you were cleaning out your room. You feel like you hit the jackpot, but how can you be certain? PSA card grading and sports card grading in general is the best way to help solidify your card's value. If you walk into a card show looking to sell your Brady card and you ask for market price, people are going to want to see some proof that your card is the real deal before giving you a wad of cash.
In this blog post the benefits of getting your card graded, how it works, where to get it done, and more are what you'll learn.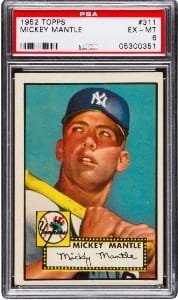 Why Should I Get My Card Graded?
Excellent question. There are many benefits in sports card grading, but the two chief benefits are certified authenticity and certified condition. You might be wondering what each of these signify. Let us explain.
Certified Authenticity: When selling a card that you believe has high value, you will likely require a certificate of authenticity (COA) if you actually want to make a sale. A COA, in a nutshell, provides proof to the buyer that the card is valid and therefore actually worth what you are selling it for. This is common when selling autographed memorabilia as well.
Certified Condition: The condition of the card can depend on how much it will sell for. For example, the Brady card found while cleaning likely has some signs of wear and tear. This can be something as simple as discoloration or perhaps damaged corners on the card. A preserved sports card in a protective case (card saver or top loader) likely sells quicker and at a much higher price.
A PSA graded sports card encased and labeled with the accurate condition instills confidence in buyers and sellers and sold more accurately.
Click for PSA card grading values of the best trending sports cards
How Does The Card Grading Process Work?
The first and most important trait checked is sports card authenticity. From there, your card will be graded on its condition, often on a 1-10 point scale. From that point, the card is issued an overall grade, sealed in a tamper-proof holder, and given a serial number.
Turnaround time for receiving your graded card can vary greatly. The average is approximately 10 business days, but it can be as prompt as 5 business days or as long as 15+ business days. It is important to keep in mind that higher demand means longer wait times. In particular, throughout the COVID-19 pandemic, PSA grading card turnaround times have been higher because people have more time on their hands to go through old card collections.
What Does Card Grading Cost?
This is an important question in determining if you want to get your card grading. Before you send your card off to be graded, you will likely need to stop by the store and get some supplies. Below are the grading costs per card for a couple of the top card grading companies.
Note: Not all services are available at the same time. Be sure to navigate each respective website for up-to-date availability.
Value – $20
Economy – $50
Regular – $100
Express – $150
Super Express – $300
Walk-Through – $600
If you believe your card is worth $10,000 or more, PSA offers premium options as well.
Economy – $35
Standard – $50
Express – $150
Premium – $250
Best Value – $20
Popular – $35
Very Fast – $50
Fastest – $75
Card Grading Scale
Alright so you've finally sent your Tom Brady rookie card off to be graded. That's great! While you wait in anticipation for your card to be returned, you should learn more about the card grading scale so when you receive your results, you understand how the grader got to that number.
Cards are graded based on four criteria: centering, edges, corners, and surface. The grader will look at each of those criteria and assign it a grade of 1-10 and then combine those to give the card a final grade of 1-10.
Let's walk through an example as if you just send your rookie Tom Brady card in for grading:
Centering = 6
Edges = 4
Corners = 5
Surface = 9
The grader will add up each of those numbers (24), divide it by the amount of criteria (4), and get the final grade (6).
Anything graded greater than 9 is considered nearly flawless as if it were just taken out of the pack. A perfect score (10) is classified as "Pristine" and rarely given out. For that reason, a pristine 10 card can easily multiply the card's overall value.
Conclusion
With enough research, card collecting can be an exciting, lucrative hobby. Thankfully, resources like card graders and blogs with useful information exist to help collectors maximize their returns on their sports cards investments.
Good luck!
Written by Chris Keeley, Baseball-Trading-Cards.com Freelance Staff Writer