Over the past couple of years, sports card collecting has seen a significant growth in popularity. Not only has this caused hockey card values to go up at card shops, but also the demand has empowered card collectors to sell their cards for record prices. The collectors market is booming and hockey cards are no exception. Here are the top 10 most valuable hockey cards sold to date – a price guide organized from cheapest to most expensive.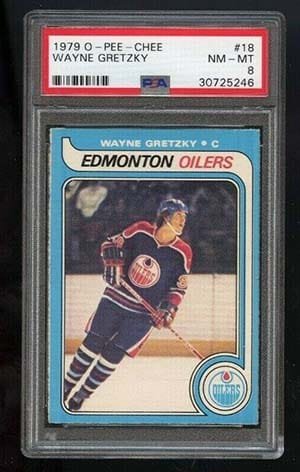 The 10 Most Valuable Hockey Card Values
10. Bert Corbeau 1923 Paterson V145–1 (Canceled) #25 PSA 1 
Hockey Card Value: 39,121
Bert Corbeau, nicknamed "Pig Iron" played 10 seasons in the NHL as a defenseman for the Montreal Canadiens, Hamilton Tigers, Toronto St. Pats, and Toronto Maple Leafs. He was the first player to hit 100 penalty minutes in a season and was part of the Canadiens' first Stanley Cup victory in 1916.
This card carries notable hockey card value, despite its low grade, largely due to its scarcity. It was released by William Paterson Chocolates. The company offered to mail a pair of ice skates to any collector who put together the full card set. In order to avoid giving away a large number of skates, Paterson released the Corbeau rookie card in limited quantities. There have only been three copies of this card ever graded by PSA. The "canceled" stamp on the back of the card was put there to prevent people from submitting sets multiple times. This card is truly unique.
9. Bobby Orr 1966 Topps Base PSA 8 #35
Hockey Card Value: $42,000
A hall of famer who revolutionized the defenseman position, Bobby Orr brought to life the meaning of a goal scoring defenseman. He was the first player in NHL history to lead the league in goal scoring in his position and helped lead the Bruins to eight straight playoffs and two Stanley Cup victories. He was named MVP three times and NHL's best defenseman eight years in a row. To this day, Orr is ranked as the 3rd best NHL player of all time.
8. Gordie Howe 1951 Parkhurst Base #66 PSA 8
Hockey Card Value: $56,600
It's a bit surprising that Mr. Hockey's card values aren't higher, but nonetheless it's good that he made the list. Howe, statistically speaking, earned his nickname by playing 1,767 games across 26 seasons, 25 of which were spent with the Detroit Red Wings. He shares the NHL record for most seasons played with Chris Chelios, but also holds the record for oldest player to ever play in an NHL Game (age 52). He even scored a goal in the 1980 NHL playoffs.
7. Bobby Hull 1958 Topps Base PSA 8
Hockey Card Value: $60,000
There are only seven of these cards left in existence – if that doesn't display this card's value, I don't know what else will. Bobby Hull is a hall of fame center who spent his 15-year career with the Chicago Blackhawks, winning one Stanley cup, seven scoring titles, 12 All-Star nods, and back-to-back MVP seasons. He was also known for his powerful slap shot that reportedly reached speeds of 118 miles per hour. According to Bleacher Report, he is ranked as the 9th best hockey player of all time.
6. Georges Vezina 1911 C55 Imperial Tobacco #38 PSA 7 
Hockey Card Value: $62,730
If you somehow have a copy of this card in good condition, I would call you a time traveler. Georges Vezina helped lead the Montreal Canadiens to two Stanley Cup victories – 1916 and 1924. Each year, the NHL presents the Vezina Trophy to the league's best goaltender. If you have this card, find out what it's worth as soon as you can.
5. Maurice Richard 1951 Parkhurst Base #4 PSA 8.5
Hockey Card Value: $75,000
Nicknamed "The Rocket" , Maurice Richard was a top goal scorer for the Montreal Canadiens back in the 1940's and 50's. He was the first NHL player to ever hit the 500 career goal mark (544), won eight Stanley Cups, and was inducted into the Hall of Fame in 1961. He even has a trophy named after him which is awarded to the top goal scorer each year.
It's rare to find one of these older cards in good condition so if you have one, you're lucky.
4. Mario Lemieux 1985 O-Pee-Chee Base #9 PSA 10 
Hockey Card Value: $80,100
Now the owner of the very team that drafted him – the Pittsburgh Penguins – Lemieux had a decorated career. Held in the ranks of The Great One Wayne Gretzky, Lemieux won two Stanley Cups, three MVP awards, and finished his career with 1,723. Still to this day, he ranks 8th in scoring all-time despite playing less than 1,000 games.
3. Sidney Crosby 2005 Upper Deck The Cup Rookie Patch Auto /99 #180 BGS 9.5 
Hockey Card Value: $80,287
Of course Sid the Kid made this list. To say Sidney Crosby has made a splash in the league would be an understatement. He has won three Stanley Cups with the Penguins and won his first NHL MVP when he was still a teenager. On top of that, he has been voted the MVP of the Penguins nine times and is 3rd all-time for points-per-game in the NHL — only Gordie Howe and Wayne Gretzky are ahead of him. With all this in consideration, there is no doubt this rookie patch auto card sells for such a high price.
2. Connor McDavid 2015 Upper Deck The Cup Rookie Autograph Patch /99 #97 PSA 10
Hockey Card Value: $135,811
Connor McDavid was the hottest prospect coming out of the 2015 NHL draft class. Anyone and everyone was trying to get their hands on as many of his cards as they could, but some cards are truly just better than others – this is one of those instances. Not only did this card grade as a PSA 10, but there are also three different colors on the patch as well as an autograph. It really doesn't get much more valuable than that.
1. Wayne Gretzky 1979 O-Pee-Chee Base #18 PSA 10 
Hockey Card Value: $3.75 million
This O-Pee-Chee card in particular is considered the most valuable hockey card in existence. With multiple copies selling for top dollar, it would be a collector's dream to get their hands on this card. Wayne Gretzky, appropriately named "The Great One" is largely considered to be the greatest hockey player of all time. He won the Stanley Cup four times and still holds numerous records that are likely to remain unbroken for eternity. Out of the 7,000+ times this card has been graded, only two of them have ever scored a PSA 10. In April of 2011, this card sold for just under $100,000, however, over the past 10 years its value increased by almost 4,000%.
If you have one of these, pray it's in good condition because it could be worth a boatload of money. 
Written by Chris Keeley, Baseball-Trading-Cards.com Freelance Staff Writer