Football season is finally here! Traditionally, this is the time of year when football card values start their annual rise, so now is a great time to find the top graded football cards to buy low.
Some of the chief logic behind identifying the top PSA or BGS graded football cards to invest in include targeting low serial numbered sports cards, rookie sports cards, and graded sports cards with low pop (population) counts. It's also important to note that sports cards graded 10, versus lower number grades, always carry much higher investment value due to its perfect gem mint rating grade.
Here are some of the top graded football card investments for the 2022 football season.
2022 Graded Football Cards to Invest In
Najee Harris
2021 National Treasures Najee Harris Rookie Patch Auto /22 PSA 10
Approximate Graded Football Card Value: $2,000
Big Ben may be gone, but the Steelers are still going to rely heavily on Najee(Shop eBay)'s abilities to move the chains this season. After having a breakout season last year, Mitchell Trubisky is likely to feed Harris consistently as he gets acclimated with his new offense. Last season, he finished with the second most carries and the most snaps, touches, routes, targets, and receptions out of any other running back in the league. Seems like a recipe for success to me.
National treasures as a whole is a highly sought-after product, but when you have a sports card patch with two colors like this one and consider its low population — only one PSA 10 and one PSA 8 — this card is pretty rare. Keep in mind, there are 20 other non-graded versions of this card out there as well.
Trevor Lawrence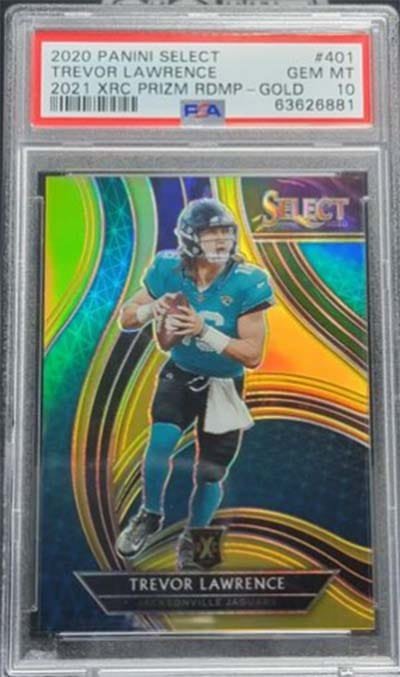 2020 Panini Select Gold Prizm XRC #401 Trevor Lawrence Rookie /10 PSA 10
Approximate Value: $10,000
As one of the most highly-anticipated quarterbacks coming out of the 2021 NFL Draft, there are high expectations for Trevor Lawrence(Shop eBay). After a not-so-impressive first year, there is a lot of room improvement in his second year. With a new coach, improved receiving corps, and the addition of his college teammate Travis Etienne Jr. behind him, all signs lead to a better season ahead for the Clemson product.
Out of the 10 versions of this card, seven earned PSA 10s and only one graded as a PSA 9. Despite more than half of the cards in circulation, this card still holds its value and would make a great addition for this season.
Joe Burrow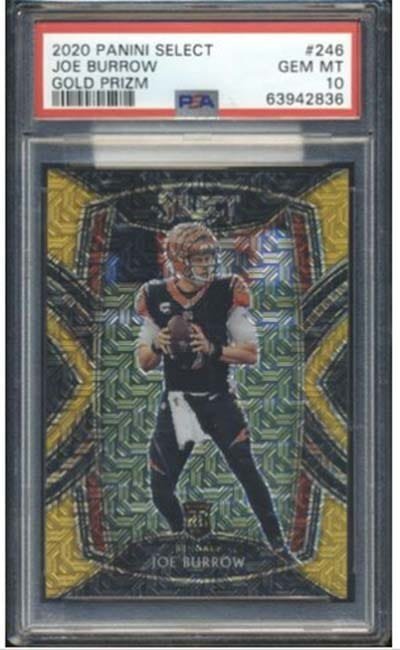 2020 Select Gold Prizm Club Level Joe Burrow Rookie 246 /10 PSA 10
Approximate Value: $8,500
The Bengals nearly won the Super Bowl last season and they'll be looking for revenge in 2022-23. As one of the best offenses in the NFL, Joe Burrow(Shop eBay) is poised to have another great year.
During his breakout 2021 season, Burrow(Shop eBay) was on pace with the league in completion percentage (70%) and yards per attempt (8.9).
Out of the 10 cards in circulation, surprisingly eight of them are PSA 10s. The remaining two cards have not been graded.
Mac Jones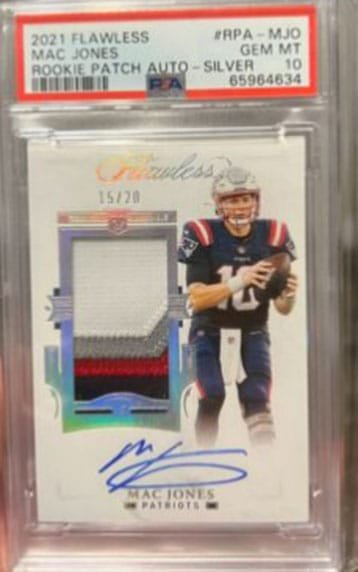 2021 Panini Flawless Mac Jones Rookie Patch Auto /20 PSA 10
Approximate Value: $19,000
Despite major changes in the Patriots coaching staff, people are big on Mac Jones this season. With the addition of Davante Parker and Ty Montgomery, the Patriots are doing what they can to give Mac Jones the cast he needs to have a breakout season. In the offseason, Mac has worked hard to increase his arm strength and trim down some body fat. He's successfully done this and is ready to redeem himself after getting smoked by the Bills in the postseason last year.
Considered the most NFL-ready quarterback to come out of the draft, Mac Jones finished his rookie year with the highest completion percentage among his fellow rookie class. He also finished among league average in other major categories like QBR and YPA.
Out of the 20 versions of this card, only eight have been graded and they are all PSA 10s. Do what you can to get your hands on one of these cards!
Patrick Mahomes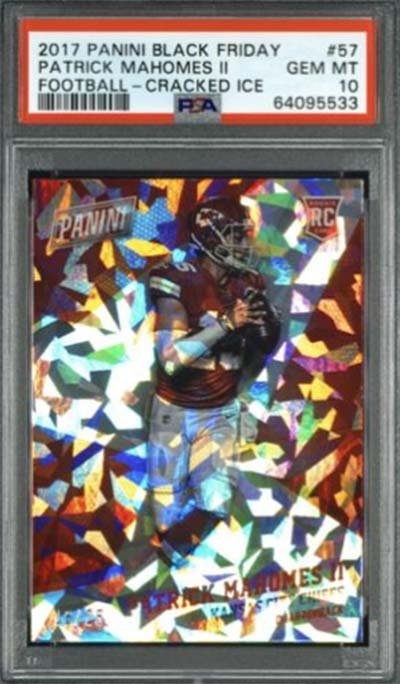 2017 Black Friday Patrick Mahomes Rookie #57 Cracked Ice /25 PSA 10 Pop 4
Approximate Value: $2,500
The Panini(Shop eBay) Black Friday promo cards have historically been a hit among collectors due to their rarity. Now take that rarity and combine it with one of the most collectable quarterbacks in the current NFL.
Despite losing Tyreek Hill to the Miami Dolphins, Mahomes(Shop eBay) is still one of (if not the) best quarterbacks in the league. Last season, Mahomes(Shop eBay) finished with the fifth highest fantasy points, which was actually his lowest since breaking into the league. So far this preseason, he's shown that he can still perform at an elite level even without Hill.
This particular card might be difficult to come by. Out of the 25 cards made, seven of them were graded — four PSA 10s and three PSA 9s.
Football season is here ladies and gents, go pick up some of the best graded football cards before sports card values start to rise!
Written by Chris Keeley, Baseball-Trading-Cards.com Freelance Staff Writer