The 2022 MLB season is now in full swing and we take a look at some of the best 2022 baseball cards to buy and invest in not named Wander Franco or Shohei Ohtani.
Mike Trout – Best 2022 Baseball Cards
Outfield / Los Angeles Angels
Yes. He's back. Mike Trout is finally healthy, crushing mammoth dingers, and looking like the old Mike Trout! Trout, who's been injured for most of the past two MLB seasons, has somewhat "cooled" with buyers in the sports card marketplace. Trout is a first ballot Hall of Famer and now would be a good time to buy those Trout cards. Strong buy.
This is one of Trout's most chased rookie cards. This card is a great long term investment. It can currently be purchased at a reasonable price before 2022 "Mike Trout" fever takes over!
2009 Mike Trout Bowman Sterling Prospects Auto Rookie Card #BSPMT
A great alternative to Trout's renowned 2009 Mike Trout Bowman Chrome Draft Autograph Rookie Card #BDPP89. The Bowman Sterling product line is highly distinguished in the sports card marketplace. Additionally, this is a somewhat rare Trout autograph card. It should continue to show great investment value over time.
If you have a large bankroll this is "THE" Mike Trout card rookie autograph card to own (the base card version is also in high demand). This Trout rookie autograph sports card is one of the most expensive Mike Trout cards and one of his rarest, there's only 40 autographed PSA GEM MINT 10 cards on PSA record to-date.
PSA lists this card's value at $38,000, while the average cost comes in at $19,979 at the the time of this story. If you have the cash, this is a very sound sports card investment.
Julio Rodriguez / Jarred Kelenic – Best 2022 Baseball Cards
Outfield / Seattle Mariners
Julio Rodriguez and Jarred Kelenic are both top 100 prospects. These two phenoms may be patrolling the Seattle outfield for many years to come.
Rodriguez and Kelenic are current starters garnering regular playing time in the Seattle Mariners outfield. They both offer exceptional power and speed. It's early in the 2022 MLB season and both Rodriguez and Kelenic have gotten off to somewhat slow starts. Now is a good time to buy low.
Jarred Kelenic has been on the sports card collecting radar for quite some time. Kelenic's sports cards were getting printed before he was even drafted by the New York Mets as a top outfielder prospect. Jarred now boasts overs 2600 cards in the sports card marketplace. Now that's a lot of cards!
Which are the best Jarred Kelenic baseball cards to buy you might ask? There are certainly many quality options, but his 2018 Bowman Chrome Draft Autograph is the top dog.
Per usual rookie card standards, Kelenic's 2018 Bowman Chrome Draft autograph rookie card has the "1st Bowman Chrome" label. The "1st Bowman" badge offers raised status to a sports card, especially with inclusion of his signature. This rookie autograph card is sure to be one of his benchmark cards that others will be measured against.
Parallels: Refractors (/499), Purple Refractors (/250), Blue Refractors (/150), Blue Wave Refractors (/150), Green Refractors (/99), Black Refractors (/75), Sparkle Refractors (/71), Gold Refractors (/50), Gold Wave Refractors (/50), Orange Refractors (/25), Red Refractors (/5), Red Wave Refractors (/5), Black Wave Refractors (1/1), Printing Plates Black (1/1), Printing Plates Cyan (1/1), Printing Plates Magenta (1/1), Printing Plates Yellow (1/1), Superfractors (1/1)
Julio Rodriguez has been simmering with sports card investors all 2022. He's made the Beckett "Hot List" several times already in 2022. Julio still hasn't taken off from a statistical perspective in 2022 so investing now is a good time.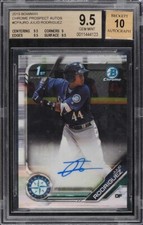 We turn to Julio's 2019 Bowman Chrome Prospect Autograph as a prime rookie card investment. The rookie card depicts him in a classic hitting shot at the plate with Rodriguez poised to demolish a fastball.
Parallels: Refractors (/499), Purple Refractors (/250), Blue Refractors (/150), Blue Wave Refractors (/150), Green Refractors (/99), Black Refractors (/75), Sparkle Refractors (/71), Gold Refractors (/50), Gold Wave Refractors (/50), Orange Refractors (/25), Red Refractors (/5), Red Wave Refractors (/5), Black Wave Refractors (1/1), Printing Plates Black (1/1), Printing Plates Cyan (1/1), Printing Plates Magenta (1/1), Printing Plates Yellow (1/1), Superfractors (1/1)