Trending Sports Cards 2020 November | Basketball
Here we review the Top Trending Michael Jordan Sports Cards 2020 November. This is our November 2020 Basketball segment.
Trending Michael Jordan Cards For November
Michael Jordan 1986 Fleer Rookie Card
The legend. Michael Jordan continues to dominate the basketball charts. And with the 2020 holidays upon us collectors are investing with fervor. Anything MJ is trending, but his crown jewel 1986 Fleer rookie card is leading the way.
Last 25 Comp Sales
Since the date of publishing Michael Jordan's last 25 sales of his 1986 Fleer rookie card graded PSA \ BGS (10,9,8) sold for an average price of $7408.29 with total sales coming in at $177799.01. And the highest 1986 Fleer Jordan sports card sold was a BGS 9.5 at $45332.23.
Michael Jordan continues to be a strong buy heading down the stretch of 2020.
Click now to use our "Deal Finder" app to find your best Michael Jordan Buy!
Most Recent Sold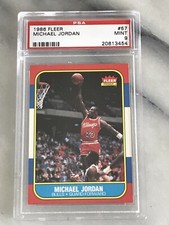 1986 Fleer Basketball Michael Jordan ROOKIE RC #57 PSA 9 MINT
Nov-17 07:12 | $20,000.00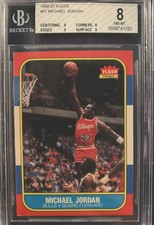 1986 Fleer Michael Jordan RC BGS 8 NM-MT
Nov-17 06:34 | $5,300.00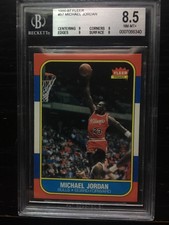 1986 Fleer Rookie Michael Jordan Rookie BGS 8.5 (9 Sub Grades)
Nov-17 06:25 | 61 bids $6,126.00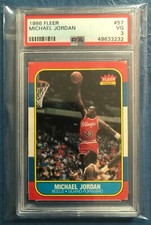 1986 FLEER BASKETBALL #57 MICHAEL JORDAN ROOKIE RC CARD PSA 3 VG
Nov-16 19:19 | $2,023.23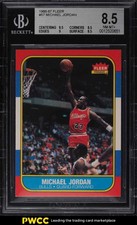 1986 Fleer Basketball Michael Jordan ROOKIE RC #57 BGS 8.5 NM-MT+
Nov-16 19:10 | 42 bids $5,651.00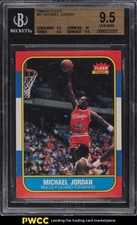 1986 Fleer Basketball Michael Jordan ROOKIE RC #57 BGS 9.5 GEM MINT
Nov-16 19:10 | 75 bids $45,332.23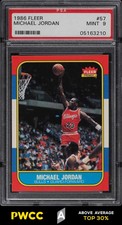 1986 Fleer Basketball Michael Jordan ROOKIE RC #57 PSA 9 MINT (PWCC-A)
Nov-16 19:10 | 65 bids $22,301.00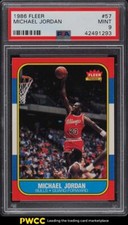 1986 Fleer Basketball Michael Jordan ROOKIE RC #57 PSA 9 MINT
Nov-16 19:10 | 77 bids $21,200.00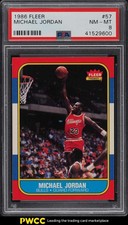 1986 Fleer Basketball Michael Jordan ROOKIE RC #57 PSA 8 NM-MT
Nov-16 19:09 | 65 bids $6,300.00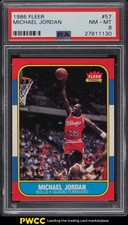 1986 Fleer Basketball Michael Jordan ROOKIE RC #57 PSA 8 NM-MT
Nov-16 19:09 | 56 bids $6,353.00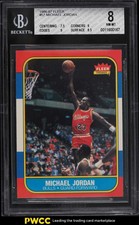 1986 Fleer Basketball Michael Jordan ROOKIE RC #57 BGS 8 NM-MT
Nov-16 19:09 | 49 bids $4,550.00
November Trending Honorable Mentions