Ever wondered what the most expensive football cards are? Here we list the 10 most expensive football cards sold.
Whether it be large or small, everyone has had a sports card collection at some point in their lives. Especially in today's world, football cards have boomed from both a buying and selling standpoint. People are fighting over card packs in retail stores and selling out online markets trying to get an opportunity to get their hands on the next Tom Brady rookie card.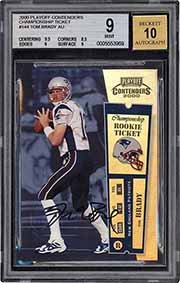 The goal of new collectors or those who have been in the game for a while is the same – make some money off your football cards. Just to give you some perspective on how much you could make, here are the top 10 most expensive football cards ever sold.
10 Most Expensive Football Cards Sold
Estimated Value (PSA 9 – Mint): $25,000
Going down as one of the best running backs in NFL history, it's no surprise to see Walter Payton on the most expensive football cards sold list. Walter Payton recorded over 16,000 rushing yards in his 190 games with the 13 seasons with the Chicago Bears. Payton's influence on the league expanded beyond his work on the gridiron.
Payton was also highly regarded for his humanitarian work. As a way to immortalize his acts of kindness, in 1999 the NFL renamed their formally named "NFL Man of the Year Award" to "The Walter Payton Man of the Year Award. To this day, it is one of the most prestigious awards to receive as an NFL player.
Estimated Value (PSA 9 – Mint): $30,000
Appropriately nicknamed "Concrete Charlie", Chuck Bednarik was one of the most devastating tacklers in NFL history. On top of his hard-hitting play on defense, Bednarik was also the last 60-minute player – playing both offense and defense.
Bednarik enjoyed a 14-season career as both a middle linebacker and center – only missing three games. He retired as a 10-time first-team ALL-Pro, 2x NFL Champion, and was inducted into the Pro Football Hall of Fame in 1967.
Estimated Value (PSA 9 – Mint): $35,000
You mean the coach? Yes, but did you know he was a tight end? Mike Ditka, famously known as the head coach of the Chicago Bears from 1982-92, was also a superstar tight end for the Chicago Bears, Philadelphia Eagles, and Dallas Cowboys.
Drafted by the Bears fifth overall in the 1961 draft, Ditka's presence was immediately felt as soon as he hit the field. Ditka had 58 receptions in his first season; introducing an entirely new dimension to the tight end position which was dominated by mostly blocking rather than pass catching.
The 1962 Topps Ditka rookie card is so valuable because it is very hard to find cards from this set in good condition. There are only four PSA 9's of this card in existence! If you have it, get it graded because it might be worth a fortune.
Estimated Value (PSA 9 – Mint) : $45,000
Despite his reputation as a partier, Bobby Layne had a very successful career. In his career with the Detroit Lions, Layne won three super bowls, was a six-time pro bowler, and was a spokesman for Marlboro.
One of his former teammates, Yale Lary, said "When Bobby said block, you blocked. When Bobby said drink, you drank."
Estimated Value (PSA 9 – Mint): $110,000
Frequently listed as one of the best quarterbacks in NFL history, Johnny Unitas led the Baltimore Colts to four championship titles – three in the pre-merger era (1958, 1959, and 1968) and one Super Bowl era title in Super Bowl V.
On top of his championship victories, Unitas was also named Most Valuable Player three times, received 10 Pro Bowl nominations, and five first-team All-Pro honors.
Estimated Value (PSA 9 – Mint): $125,000
Bart Starr was, believe it or not, a 17th round draft pick of the Green Bay Packers back in 1956. Despite his plummet to the bottom of draft boards, Starr went on to become one of the greatest quarterbacks of all time, leading the Packers to five NFL and two Super Bowl championships in his career. Starr was inducted into the Pro Football Hall of Fame in 1977.
The 1957 Topps football card set is largely known as one of the top sets to have as far as vintage football cards go. A mint condition version of this card will cost you a hefty amount of cash, but lower graded versions of this card can be found for $500.
Estimated Value (PSA 9 – Mint): $250,000
Nicknamed "Broadway", Joe Namath is remembered as one of the most popular football players in history. His personality paired with his ability to throw a football was perfect for the bright lights of New York City.

As you can imagine, there have been many Joe Namath cards made, but this one in particular is the most sought after. The 'tallboy' format makes it extremely difficult to find this card in great condition, but if you do, you hit the jackpot.
There are only five PSA 9's in existence. Still though, a good condition Namath rookie card will sell for over $1,000.
Estimated Value (PSA 9 – Mint): $275,000
If you walk up to someone on the street and ask them who the best running back in NFL history is, many of them would tell you Jim Brown. How could you even debate that? Jim Brown made the Pro Bowl every year (9 seasons) of his career, won three MVP awards, and led the league in rushing yards and touchdowns eight and five times respectively. By the time he retired, he practically shattered every NFL record for his position.
There were numerous print defects found in this set, so finding a mint condition version is very difficult – hence the price tag. That being said, a good condition Jim Brown rookie will sometimes sell for around $300 sheerly due to its desirability.
Estimated Value (PSA 9 – Mint): $750,000
Perhaps one of the most famous fullbacks in football history, Nagurski used to demolish his opponents. With his 6'3" and 235 pound physique, opposing players seldom stood a chance when this guy was running at you.
A lot of appeal to Nagurski's rookie card stems from him being a dual-sport athlete – leaving the league in 1937 to become a professional wrestler. Although there are over 200 PSA 9 versions of this card in existence, there is such a significant demand for it which drives the price upward.
Estimated Value (PSA 9 – Mint): $3 Million
Come on, you knew who was going to be at the top of this list. Arguably the greatest quarterback of all time, Tom Brady has spent the majority of his career with the New England Patriots, leading them to six Super Bowl titles in 19 seasons as a starter. Brady currently holds more records than you could possibly count, including most passing yards and touchdowns in NFL history. Brady's awards and honors don't end there. In his career so far, Brady has been recognized as:
Seven-time Super Bowl champion (most for any individual player)
Five-time Super Bowl MVP (all-time record)
Three-time NFL MVP
Three-time First Team All-Pro
14-time Pro Bowl selection (tied for most)
2000s All-Decade Team
2010s All-Decade Team
NFL 100th Anniversary All-Time Team
2007 Bert Bell Award
Tom Brady cards, as a general rule, sell for boatloads of money. But if you have this one in particular, create an eBay account now and list it.
Now that you know what the 10 most expensive football cards sold are…
Want to know how much your football card is worth? Check out our football card price lookup tool. Your football cards might be more valuable than you think.
Written by Chris Keeley, Baseball-Trading-Cards.com Freelance Staff Writer